Recent Alumni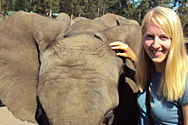 Anna Gill
Class of 2012
Anna Gill '12 was a McCoy and Leadership Scholar, earned a degree in Middle Childhood Education, and graduated Phi Beta Kappa. She has chosen to enter a long-term service program, with part of her mission taking place in Grenada.
---
Cody Meglio
Class of 2011
Cody Meglio '11 graduated Phi Beta Kappa and salutatorian of his class with Bachelor of Arts degrees in Accounting, Economics and Finance. Within months of graduating, he earned one of the 10 highest scores in the nation on the Uniform CPA Examination. At that time, he was the youngest CPA in the state of Virginia.
---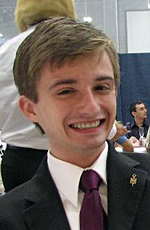 Ben Reece '13
Major: Economics and Political Science
Minor: Leadership Studies, Honors Program
Additional Education: University of Michigan Law School (Class of 2016)
Current Job: Summer law clerk at the U.S. Attorney's Office for the District of Columbia (2014).
Hometown: Marietta, Ohio
Clubs/Organizations: Forensics & Pi Kappa Delta, Band (Symphonic Band/Wind Ensemble), Model UN, Moot Court, College Students for Common Sense
Favorite Professor: I honestly can't pick one. I was going to list them, but since it was pretty much becoming a list of all the professors in several departments, I figured this was the simplest answer. All of my professors went so far above and beyond to help, encourage and get to know me that I would feel terrible singling one out above the others.
Education Abroad: Cambridge, UK (Summer 2012) at Emmanuel College of the University of Cambridge
When did you know Marietta College was the right school for you?
As a local student, my original impulse was to get as far away from Marietta (the town) as possible. Taking classes through the PSEO program and my experience participating in several admission events changed my mind.
Favorite Marietta moment?
Winning first place alongside my debate partner (Nyssa Wilkerson) at the first annual James & Mabry O'Donnell Debate Tournament and celebrating with the team/alumni afterwards.
Describe what life was like during your time at Marietta College.
Busy. Engaging. And Fun. That could probably describe the life of a Marietta College student in any time period, but especially during the last few years while I was a student and, from what I hear, today. There are so many opportunities to be had and activities to be involved with and Marietta students tend to want to participate in all of them. I certainly sacrificed my share of sleep, but I can honestly say that it was worth every minute because the best thing about Marietta is that just as much education happens outside the classroom as inside it.
What impact did Marietta College have on your career?
I don't think I could list all of the ways I have used the education and experiences I had at Marietta College even in the brief time since I graduated. Whether it is using the critical thinking and problem solving skills I gained from a liberal arts education and close interactions with professors to complete Legal Writing assignments and law school exams, or using the public speaking skills I developed through speech and debate to advance to the elimination rounds of the first-year Oral Advocacy competition, Marietta College is what prepared me to handle the challenges of law school.
What does it mean to be a Pioneer?
Being a Pioneer means daring to take advantage of every opportunity that you find, giving your whole self to whatever you do, and making a difference wherever you go.
---
Ashley Parker
Class of 2011
Ashley Parker '12 earned a coveted Research Experience for Undergraduates internship after her sophomore year at the National Superconducting Cyclotron Laboratory, completing an internship with the Kavli Institute for Particle Astrophysics and Cosmology at SLAC National Accelerator Laboratory. She also participated in the Education Abroad program for a semester in Utrecht, Amsterdam. The Rickey Scholar earned a Bachelor of Science in Physics and a minor in Mathematics.
---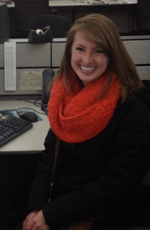 Alison Matas '11
Major: Journalism
Minors: Leadership Studies, Organizational Communications/Public Relations
Additional Education: Master of Arts, Journalism, University of Missouri
Current Job: Journalist at The (Canton) Repository
Hometown: Kent, Ohio
Clubs/Organizations: Concert Choir, Floodstage, The Marcolian, Colleges Against Cancer, EXCEL Workshop, Honors House, Honors Program, Omicron Delta Kappa, Phi Beta Kappa
Favorite Professor: Joan Price
When did you know Marietta College was the right school for you?
I knew Marietta College was the right choice for me when I realized I would be able to participate in the extracurricular activities I enjoyed during high school while still attending a small college. I'd looked at several similar schools in Ohio, and while each had some of the activities I wanted or the major I was interested in, only Marietta offered me all those opportunities. The option of being a McDonough scholar was also a huge draw for me.
Favorite Marietta moment?
It's a tie: One of my favorite moments was the final day of the first EXCEL Workshop I coordinated. I remember watching the end-of-the-workshop slideshow with my co-coordinator and best friend (Celia Brockway). We just sat there crying together — half from exhaustion and half from happiness at what our team had accomplished. Going through the EXCEL Workshop as a participant my freshman year calmed some of my nerves about college and reassured me that I'd made the right decision in enrolling at Marietta. Being able to give back to a program I loved was especially meaningful for me.
My other favorite moment was performing in the musical "Quilters" during my junior year. I wasn't a music major or a theater major, so I felt lucky to have the chance to sing and dance onstage with such a talented cast. Plus, a big group of my friends came to see the show together opening night, and it was fun to be able to share in that experience with them.
Describe what life was like during your time at Marietta College.
My first thought was "busy," but I'll say "scheduled" instead. I spent much of my time running back and forth between choir rehearsals, classes and newspaper duties. Every day was full of things I loved to do. My friends were equally involved in their own academics and activities, but we still found time to meet up for "family dinner" most nights in Gilman and have adventures on the weekend. When I was at Marietta, the Dorothy Webster complex also had some upperclass housing, so we spent a lot of time doing homework and hanging out on that front porch.
What impact did Marietta College have on your career?
Two of my professors at Marietta College — Jane Dailey and Joan Price — are the reason I stuck with journalism. They encouraged and challenged me and kept me focused. And because I attended a small college, I didn't just study newspaper reporting but also broadcast journalism, newspaper and website design, copy editing and media management. Getting a taste of all my options solidified my love for writing and editing.
What does it mean to be a Pioneer?
To me, it means being a graduate of a college that excels in academics, the fine arts and athletics. It means having lifelong relationships with both my friends and some of my professors. And it means belonging to a group of alumni who are making a difference across our country and world.
---
Kevin Knab
Class of 2012
Kevin Knab '12 shined on the basketball court and in his academics at Marietta. After earning a degree in Finance, he began working in the banking industry and is currently a loan officer at an institution in Marietta.
---
Courtney Malone
Class of 2011
Courtney Malone '11 earned a Bachelor of Arts in Psychology before the age of 20 and is in the process of completing her final year of seminary at Ashland Theological Seminary. She ultimately plans to work with at-risk children and families.
---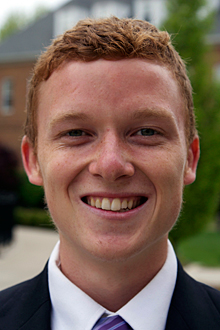 Caleb Muller
Class of 2013
Caleb Muller '13 excelled in Track and Cross Country at Marietta while maintaining excellent academic standing. The McCoy Scholar graduated Phi Beta Kappa with a Bachelor of Science in Information Systems and a minor in Leadership Studies. He currently works in the Information Services Division Rotation Program at the University of Pittsburgh Medical Center.
---