Sports Management
Sam Crawford '11
Major: Finance and Sports Management
Current Job: Sales Professional, BSN Sports
Hometown: Granville, Ohio
Clubs/Organizations: Sports Management Internship Group
Favorite Professor: Debbie Lazorik and Jim Falter
When did you know Marietta College was the right school for you?
After my very first visit to campus, I had a pretty good feeling Marietta College was where I would end up.
Favorite Marietta moment?
When I learned Marietta College was going to start a Sports Management major the spring before my senior year.
Describe what life was like during your time at Marietta College.
Life was challenging while attending MC. The professors pushed you to limits you didn't think you were capable of, but in the end it made you a more well-rounded and confident person. The friends I made along the way definitely added enjoyment to my college experience.
What impact did Marietta College have on your career?
Earning my degree from Marietta College opened up many doors upon graduation. I started a summer internship after graduation, and once the internship was completed I started looking for more permanent jobs. I had shadowed a speaker from the Sports Management Internship group my senior year, and it turned out he was looking to fill a position around the time my internship was completed.
What does it mean to be a Pioneer?
Being a Pioneer means distinguishing yourself in a crowd. There is a sense of pride you carry to be a part of The Long Blue Line, but you know the hard work and dedication needed to be successful in whatever venture you pursue.
---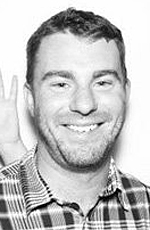 Mike Daugherty '09
Major: Advertising & Public Relations
Minor: Sports Management and Art
Additional Education: Master of Arts, Syracuse University
Current Job/Employer: Digital Media Solutions Planner, Electronic Arts
Hometown: Cambridge, Ohio
Clubs/Organizations: Sports Information Department, The Marcolian, Career Center, AAF, College Union Board
Athletics: Football
Favorite Professor: Dr. Mike Taylor
When did you know Marietta College was the right school for you?
This definitely developed over the years. Marietta was convenient at the start. Through the course of developing what would remain deep friendships in Marietta Hall freshman year, there's something innately gratifying in recognizing through the years Marietta was the perfect place for me in those four years. Further developing impactful relationships with faculty/staff as an upperclassmen, and finding a "home" in Marietta besides just that of the campus grid, MC developed into my favorite blue jeans! I look back, and fate is a cheesy way to describe it, but MC wound up being a highly coveted chapter in my life, shaping who I am today — an experience/choice I could never think of writing another way.
What impact did Marietta College have on your career?
Marietta instilled in me the notion to take/and create what I wanted out of any experience — to take advantage of the freedom to make the most of the resources at my disposal. Much of getting everything there is to be had out of an experience is forging and uncovering what's not necessarily clearly outlined in the curriculum/syllabus/guidebook/job description.
What does it mean to be a Pioneer?
To lead — whether that is formally, or by example. Being a Pioneer is inspiring those around you to be "Pioneers" in their own right. It's easy to go through the motions, or punch a clock. To be a Pioneer is to not settle — to take the road less traveled, be curious, explore, ask questions, uncover, and blaze your own path you'll leave behind.
---