The Marietta Effect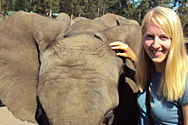 Anna Gill '12
Majors: Middle Childhood Education
Certificate: Teacher Leadership
Hometown: Canal Winchester, Ohio
Clubs/Organizations: In college, I was involved in InterVarsity Christian Fellowship, the Honors House/Scholars Community, Circle K International, and Students for Environmental Awareness. In Grenada, I was involved in the Grand Roy Pan Angels Steel Orchestra (steel drum/pan group).
Current Occupation: Mission Intern from the General Board of Global Ministries of the United Methodist Church. In March 2014 started a position with Branches, a nonprofit in Miami, Fla., doing financial stability education as part of my domestic placement.
Favorite Professor: Too hard to choose one, but among them were Dr. (Cathy) Mowrer, Dr. (Dottie) Erb, Dr. (Connie) Golden, Dr. (Tanya) Judd Pucella, Dr. (Robert) McManus and Dr. Mabry O'Donnell.
Education abroad: Stellenbosch University in Stellenbosch, Western Cape, South Africa from January-June 2011.
When did you know Marietta College was the right school for you?
I was at an open house or some event in McDonough. I'd spent the day on campus and could see myself living and thriving here. I turned to my mom and told her I'd finally made my decision: I was going to Marietta College.
Favorite Marietta moment?
Homecoming in 2010 with the Honors House. We themed everything around Harry Potter and had great entries for Munchies on the Mall, Croon, and more. It was the camaraderie and the quirky humor of my Honors House friends that made it so special.
Describe what life was like during your time at Marietta College.
Busy. I always had a full course load and never got enough sleep. But I had a great living community with the Honors House. Living there, I always had friends around; they were worth losing sleep over. They motivated me to be the best student I could be while also making sure there was never a dull moment. Those people are still some of my best friends. I was also very involved with extracurricular activities.
What impact did Marietta College have on your career?
A lot of what motivated me to become a mission intern came from InterVarsity Christian Fellowship, where I learned how much God cares for people affected by social injustices, and gained valuable leadership experience serving as chapter president. I also cannot understate the importance of learning about world issues, geography, civic engagement, communication skills, leadership styles, teaching strategies and critical thinking from my classes.
What does it mean to be a Pioneer?
Being a Pioneer means being part of a wonderful campus community that equips and inspires you to go out and make a difference in the global community.