'Audubon and the Avian Experience' opens in Gallery 310 on Sept. 17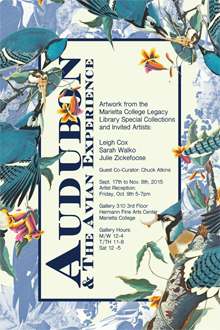 Marietta College's Art Department is presenting Audubon and the Avian Experience: Traditional Bird Prints and a Contemporary Approach, in Gallery 310 starting on Thursday, Sept. 17.
Artwork on display will be from the College's Special Collection, along with invited artists Leigh Cox, Sarah Walko and Julie Zickefoose.
Cox is an Ohio-based illustrator who received her BFA from The School of The Art Institute of Chicago with a focus on Natural History Illustration. Walko is an artist, director, curator and writer. She is currently the Program Director of Marble House Project, a non-profit arts organization in New York City and Dorset, Vermont. Zickefoose, who is a nature artist and writer of The Bluebird Effect-Uncommon Bonds with Common Birds, with 320 of her own lavishly illustrated life sketches and drawings. Zickefoose's illustrations have appeared on 23 covers of Ohio-based, "Bird Watchers Digest," and, among other things, she is a regular commentator on NPR's "All Things Considered."
Audubon and the Avian Experience is a visual conversation with ornithologist, naturalist and painter, John James Audubon and artists working with bird imagery today. Included in the exhibition are delicate studies of new life, just fledgling out of the nest, to birds of prey with a living being in their talons about to become a meal.
Gallery 310 is located on the third floor of the Hermann Fine Arts Center. The exhibition runs until Nov. 8 with an artist's reception from 5-7 p.m., Friday, Oct. 9. Gallery hours are Noon-4 p.m. on Monday and Wednesday, 11 a.m.-8 p.m. on Tuesday and Thursday and noon- 5 p.m. on Saturday, or by appointment.
Gallery 310 aims to present diverse and stimulating exhibitions, which will enrich the artistic culture and education of the campus, community, and region. Gallery 310 supports teaching, learning, and exploration in the liberal arts through rotating exhibitions and related programs.