'Intersection' presents World America in Marietta's Esbenshade Series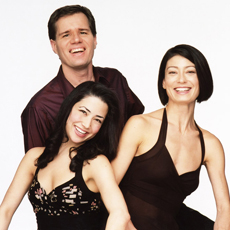 Intersection, a concert blended with classical, jazz Latin, Broadway and film music, will perform in Marietta College's Frederica G. Esbenshade Series at 7:30 p.m., Wednesday, April 2.
The performance will be held in the Alma McDonough Auditorium.
The Esbenshade Series is in its 33rd consecutive season of providing enriching cultural experiences to the campus, as well as the Marietta community.
Intersection will present a program entitled "World America" that introduces a musical melting pot. With its versatility, engaging stage manner and unique mixing of trio, duo and solo formats, Intersection has won a large and avid international fan base.
Established through a generous gift in 1980, the series is endowed by the Frederica G. Esbenshade Memorial Fund to bring lectures, performing artists, and programs in the humanities to the Marietta community. All Esbenshade events are free and open to the public.