12 Marietta College seniors complete honors research projects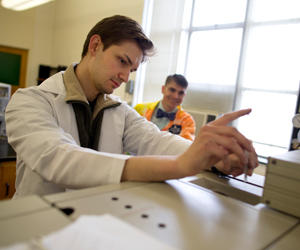 During the 2012-13 academic year, 12 seniors took their Marietta College education to the next level by completing honors research projects.
"I love a challenge," said Audrey Ross '13 (Norwalk, Ohio), a psychology major. "I've always been the type of person to go above and beyond and this was the perfect opportunity to do so … This was a chance for me to explore the field of forensic psychology and design an experiment that reflected my true interests."
Ross's project, "Can Knowledge of Future Public Presentations of Eyewitness Testimonies Obviate Positive Post- Identification Effects?" looked into how witnesses' knowledge of future testimony presentation could affect their confidence when describing an event.
"Eyewitness testimonies carry much weight in the courtroom," she said. "Jurors actually look for eyewitness confidence as an indicator of eyewitness accuracy. However, eyewitness confidence can be distorted via post-identification feedback. More specifically, if an eyewitness is given positive feedback — you picked the correct suspect — there is confidence inflation. This confidence inflation can and does carry over to eyewitness testimonies."
Andrew Kasick '13 (Marietta, Ohio), a chemistry and art double major, found a way to combine both majors into his study. His project was titled "Gas Chromatography-Mass Spectrometry Study of a Painting That May Contain Asphaltum Pigment" and involved a chemical study of a damaged painting from the college's archives.
Although Kasick's project did not determine whether asphaltum paint was used in the creation of the painting, he considers the entire process a valuable experience.
"Since there were so many open ended problems I was confronted with, from generally picking a topic to research to the experimental difficulties … along with almost no one who I could turn to for advice due to the nature of what I was studying, most of the problem solving responsibility fell on me and me alone," he said. "My lab skills were greatly strengthened since I was working on an experiment I had designed on my own.  Also, I have a better understanding of where my interests and passions are..."
The process for senior theses begins in the spring of junior year, according to Dr. David Brown, Director of the Honors Program. Students must submit a proposal, select a committee of faculty members and work with a thesis supervisor.
"I think that the one-on-one interaction is great for both the student and the faculty member," Brown said. "The student gets to experience working with a faculty member and learning from them how they approach questions and problems. Often times the faculty also benefit because they get introduced to new areas of research or examine an issue from a different perspective."
The remaining seniors who completed honors theses, with project titles, are:
George Grady '13 (Willowick, Ohio): "The Effect of Resveratrol on Ultraviolet Light-induced Skin Cell Death."
Kim Hughes '13 (New Castle, Pa.): "State Economic Growth: An Analysis of Effective and Ineffective Development."
Aaron Kurtz '13 (New Philadelphia, Ohio): "Determining Mineralogy from Traditional Well Log Data."
Taylor A. Landrie '13 (Fredericksburg, Va.): "Toward a More Holistic Understanding of Caudillo Leadership."
Kelsie Markin '13 (Urbana, Ohio): "Relationship Between Balance and Reaction Time in Concussed vs. Non-concussed Athletes."
Alyssa F. McGrath '13 (Chillicothe, Ohio): "Aaron, Othello, and Caliban: Shakespeare's Presentation of Ethnic Minorities in Titus Andronicus,Othello, and The Tempest."
Jessica N. Penny '13 (Bellefontaine, Ohio): "Language Policy and Planning in Spain: A Case Study of Accessibility of Education, Employment, and Social Services in Catalonia." 
W. Benjamin Reese '13 (Marietta, Ohio): "Towards Affordable American Medicine: An Empirical Analysis of the Determinants of Healthcare Expenditures in Developed Nations," and "A Prescriptive Cost-Effectiveness Analysis of Potential Policy Alternatives."
Chyrsten Regelski '13 (Greenville, Ohio): "Kinesio Tape Has a Positive Effect on Facilitation of the Tibialis Posterior Muscle During Walking Gait."
Justine Schneider '13 (Sheffield, Ohio): "The Scenic Charge Artist as Leader: Research in Historical Models, Exploration in Practice, and Synthesis in Documentation."