2015 graduate can add Ross Fellow to his résumé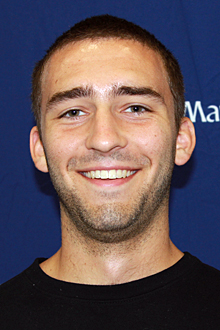 When Joe Andler '15 (Canal Fulton, Ohio) moves out of his residence hall on May 3, he will likely take a few moments and reflect on the impact Marietta College has made on his life.
"It hasn't hit me yet that I won't be here any more. It's bittersweet in every bit of the word," he said. "I'm ready to get on with my life, but I'm not excited to leave either. Marietta has been good to me."
Andler, who will graduate Phi Beta Kappa, will join 300 other members of the Class of 2015 at Marietta College's 178th Commencement ceremony at 1 p.m., Sunday, May 3, in the Dyson Baudo Recreation Center. While some graduates are still figuring out the future, many are like Andler, who know what is next.
Andler, who said he always knew he would continue his education in graduate school, was recently awarded the Ross Fellowship in the Materials Science Engineering Program at Purdue University. He enters the Ph.D. program this fall.
"After I accepted my Purdue graduate school admission, I got an email about a week later that said I was awarded the Ross Fellowship," Andler said. "At first I didn't believe it. But after emails from multiple Purdue staff, I realized it was true."
It was the best news he had received since learning he earned an $18,000 Rickey Scholarship from Marietta. At Purdue, Andler receives a full-tuition scholarship and will get paid $25,000 a year to do research, earn his Ph.D. and teach a few classes during his time in the program.
"I think teaching a class will be fun. It's not what I want to do for a living, but I think I will enjoy being a mentor to others," he said. "The biggest difference between the Rickey Scholarship and the fellowship is I was going to Purdue no matter what. At the time, I wouldn't have been able to afford Marietta College, so the Rickey Scholarship played a critical role in my future."
The Rickey Scholarship is merit-based and renewable for up to four years. David M. Rickey '78 and the J&D Family Foundation established the Rickey Scholarships in Physics in 2001. Since its inception, the College has named 34 Rickey Scholars.
Dr. Dennis Kuhl said Andler was a perfect example of what the faculty expect out of Physics major, but even more so out of a Rickey Scholar.
"He is a naturally curious person, who is also a very intelligent optimist," said Kuhl, Rickey Associate Professor of Physics. "Joe has really done a lot of things during his four years … he has taken advantage of every opportunity."
Kuhl said scholarships — especially those like the Rickey Scholarship — are critical if the College is going to continue attracting top-notch students like Andler.
"We wouldn't have Joe Andler without it," he said. "As a professor, it is great to work with student like Joe … students who are dedicated to their field of study."
Most recently, Andler could have been spotted in the Kremer Amphitheatre making homemade ice cream with liquid nitrogen during the annual All Scholars Day. He also tutored others in physics, participated in numerous intramural athletic events and is a member of the Newman Society.
However, it was his semester abroad in New Zealand that makes him most proud.
"Understanding how people live every day on the other side of the world can be eye opening," Andler said. "New Zealand isn't that different than the U.S. It helped me see that I'm a lot more independent than I thought I was. I'm kind of a momma's boy. That let me see I could be independent."
That independence should serve him well as he looks for an apartment in West Lafayette, Ind., before he arrives in mid-August to start the graduate program. "I found a place on Craigslist and I might live with three other guys I have never met, but I'll probably go meet them first and check it out."
Andler is also confident that his undergraduate experience at Marietta has prepared him well for Purdue, but also life in general.
"The professors have all been very knowledgeable about everything they talk about. They've helped open my mind up in ways it wasn't four years ago. They've helped me think differently," Andler said. "My mental maturity has improved. I understand the point of learning more than I ever did before. I used to learn material so I could get the answers right on a test. Now I understand the deeper aspect of the material. The professors at Marietta want you to do more than just regurgitate information for a test."
Similar to many graduates before him — and many more that will come years later — Andler is saddened by the distance that will now be between him and those close friends he made at Marietta over the past four years.
"The friends that I've met here have been fantastic," he said. "I try to imagine going to other schools and it wouldn't feel right without the friends I've made."
Some of those friends are the faculty members who invited Andler and his classmates over to their homes for a meal, or planned an extra study session well into the evening.
"That's what I'll miss the most. We're so close to the teachers. They help us through any mental barrier. They can see the expressions on our face and say 'I didn't explain that well enough,' " Andler said. "I'm not sure if I'll ever get as close to a professor as I did at Marietta. In everyday classes, I'll miss being able to go into an office and ask a five-minute question and get a 30-minute answer, and the professor wants to talk for that long."