AAF students win 'Judge's Award' at advertising competition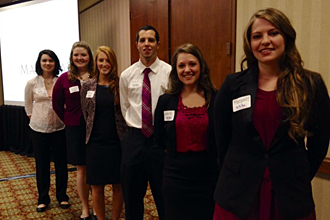 Eight members of Marietta College's American Advertising Federation team recently competed in the Regional National Student Advertising Competition in Louisville, Ky.
Marietta's team — Tyler Baltzell '15 (Dayton, Ohio), Lauren Bush '15 (Kent, Ohio), Lexi Callaway '16 (Portage, Mich.), Mary Ervin '16 (Lewis Center, Ohio), Natalie Mayan '15 (Camden, Del.), Charlee Ottersberg '15 (Arvada, Colo.), Margaret Price '16 (Hilliard, Ohio) and Alexandra Seals '16 (Marysville, Ind.) — won the Judge's Award for Best Social Media Use.
Marietta competed with eight other schools in District 5, which included Ohio University, Youngstown State, John Carroll, Cleveland State, Marshall University, Murray State, University of Kentucky and Western Kentucky University.  
"Our NSAC team consisted of a great group of smart and talented students. Just competing in this event shows drive and ambition," said Lori Smith, Advisor for Marietta's AAF chapter. "They worked really hard, had really good ideas, a professional plans book, and did a outstanding job on the presentation of their integrated marketing campaign. I know they learned a great deal through this process."
This year's corporate sponsor was Mary Kay, which provided a case study outlining the history of its product and current advertising situation. The case study is supposed to reflect a real-world situation to challenge students' critical thinking abilities and creativity. Students then research the product and its competition, identify potential problems and develop an integrated communications campaign for the client. At the end, the students "pitch" the campaign to a panel of judges.