Alicia Doerflinger — Psychology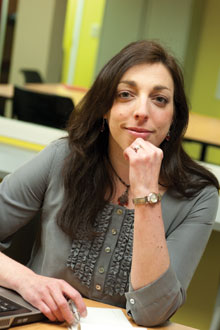 Commencement Day was bittersweet for Heather Haught '11 (Marietta, Ohio). After four years of tough classes and challenging research projects, most students gladly take the opportunity to bid farewell to college life — but not Haught. 
The psychology major misses her mentor, Dr. Alicia Doerflinger, Associate Professor of Psychology. 
"Dr. D. and I share a common thread in that we have sort of 'grown up' together at Marietta College. My debut at Marietta (in 2007) was the same as hers. Actually, my first class was PSYC 101 at 9 a.m., which was her section of Intro," Haught says.
 Dr. Doerflinger has contributed a great deal to the research projects that have taken place on campus. In April 2011, she organized the first All Scholars Day, which provided undergraduates at Marietta the opportunity to present their research or creative work in a formal setting. In the spring of 2012, the program grew in scope and included much more buy in around campus. One of the goals of the newest strategic plan is to emphasize experiential education, which means focusing on undergraduate research, internships, service learning, study abroad and the Investigative Studies program.
 
"Research is an active learning process that allows students to make connections between the theories and the practices of their discipline," Dr. Doerflinger says. "Reading facts about the principles of behavior in a textbook does not encourage the same type of learning as a hands-on execution of those principles in the behavior lab. Even if students are not planning on pursuing a graduate degree, research experiences enhance students' time management, organization, and writing skills."
 
Dr. Doerflinger has been an invaluable support to students who are pursuing research ideas and opportunities.
 
"I encourage students to jump into the unknown, even when the project might fail," she says. "In the lab, I try to model good research habits, teach specific skills and techniques in the lab, and keep open the conversation about research ethics. I also encourage students to present their work whenever an opportunity to do so presents itself."
 
Having completed three major research projects with Dr. Doerflinger, including one Investigative Studies project, Haught feels well prepared for the next step in her education. She is in the doctoral program at the University of Toledo and is pursuing a doctorate in Experimental Psychology with a focus in Social Psychology.
 
"I know that Dr. D. will continue to be a valuable and accessible mentor and friend into the future — I hope she knows that I am not so easy to get rid of…I don't just go away because you hand me a cap and gown and a diploma," Haught says. "I know too that she will touch other students' lives as she has touched mine. In a nutshell she has had the greatest impact on my academic life and I could never thank her enough."