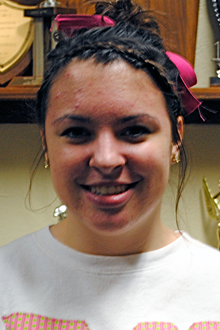 Off the Mall:
Hometown: Youngstown, Ohio
Day Job: Circuit Coach at Curves
Best Place to Hang Out on Campus: Dorothy Webster lobby kitchen table. "I felt so comfortable being surrounded by the big windows, and it reminded me of a beach house I used to stay at in New Jersey."
Alina Kielbasa '15
The small Pacific island of Tuvalu is a modern day Atlantis; the island is so severely plagued by the effects of global warming that estimations predict it will be completely submerged into the ocean within 50 years.
Most people are unaware of the plights of Tuvalu, but International Leadership Studies major Alina Kielbasa '15 has her sights set on improving the state of this island.
"Tuvalu has really caught my interest because I had never heard about the country until high school. It is facing a lot of problems, but basically the world is ignoring them," Kielbasa says. "I want to teach English there to help their younger generation be able to better communicate with the international world."
To work her way toward this commendable goal, Kielbasa actively partakes in the Forensics Club, her sorority, community service, and the Student Alumni Association. Kielbasa is also pursuing a minor in Political Science and a Teaching English as a Foreign Language Certificate, all while maintaining her ranks on the Dean's List. 
She was first attracted to Marietta for the McDonough Leadership Program and its opportunities to continue learning outside of the classroom. Kielbasa participated in a recent Leadership class that took eight students to Costa Rica and Belize to study the politics of conservation.
"This summer was the first time I have ever studied abroad and I wish everyone could have a similar experience," she says. "We went to Costa Rica for two weeks and Belize for a week to do a Yale environmental survey, and being submerged into a new culture is extremely exciting!"
Kielbasa further translates what she learns in her major as inspiration in the debate field. Her membership in the Forensics Club gives her a platform to raise awareness about the issues she feels so strongly about, like the unknown Tuvalu. As would be expected, debate topics that surround international issues hold her favoritism.
"I love my ILS major because it combines the study of language but also culture, politics, and different leadership theories in those cultures," she says.