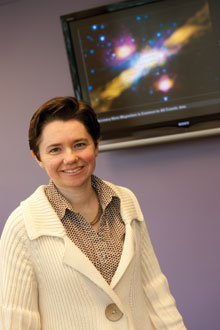 Some of Dr. Ann Bragg's students are studying astrophysics, while others are still learning how to write in cursive.
In addition to teaching astronomy and physics at Marietta College, Dr. Bragg is the Director of the Anderson Hancock Planetarium. On any given day of the week, school buses are parked along Fourth Street or various grade school children are walking to and from the planetarium, excited about the opportunity to see up close the solar system they've been learning about in science class.
Dr. Bragg knows teaching astronomy and physics isn't a one-size-fits-all endeavor. Having earned her doctorate from Harvard University, she has studied under incredibly talented scientists.
"My physics classes were lectures and all of my astronomy classes used a lot of calculus," she says. "When I was a (teaching assistant) in graduate school, the undergraduate students would have recitation sessions. That was the only time I ever sat in on an introductory astronomy class. It was flashy, with more emphasis on the concepts rather than various equations. Sometimes it's easy to hide behind equations."
For newer astronomy students, Dr. Bragg sparingly uses geometry during her classes. "We talk about the human side of things," she says. "It's not all this abstract knowledge from on high. People have figured astronomy concepts out little by little. What the Greeks discovered through naked-eye observations and geometry—like the distance of the moon, size of the moon and the size of the Earth—is impressive."
Teaching at a small college was a new experience for Bragg, and a good one. "I feel like the faculty and staff here are like a team that works together to try to provide good opportunities and experiences for our students," she says.
Dave Hood '11 (Cincinnati, Ohio), who graduated with a degree in Broadcast and a minor in Management, wanted to be one of the first students to operate the planetarium. After completing four courses (Life in the Universe, Cosmology, Astrophysics and the planetarium training course) and an independent study involving extensive work using the planetarium, he has earned a minor in Astronomy.
"I think that my classes with Dr. Bragg and the work I have done in the planetarium have really enhanced my liberal arts experience," Hood says. "Having the extra science classes has made a big impact on my experience. I am a better problem solver and critical thinker as a result of those extra classes."
Hood has been accepted into a media studies graduate program and plans to pursue a career in media management in the future. "Even though it is unlikely I will have many direct applications from some of my astronomy classes in my career, I believe the indirect application of better understanding how the universe works and where the world fits into everything that is out there is important to being successful in life."
This keeps in tune with the concepts Dr. Bragg teaches in the classroom that allow students to see the application of the study of astronomy to things that are relevant in life.
"Before I came here, I was teaching classes of 200 students—getting to know each student and shape each class to reflect those students was a hopeless idea. But here, I know my students and I plan my classes in terms of who is actually going to be in the room."