Author of 'The Physics of NASCAR' to speak on campus Nov. 6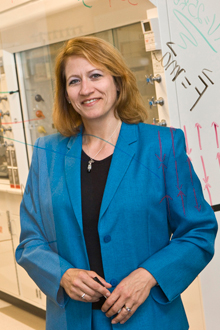 Dr. Diandra Leslie-Pelecky, author of The Physics of NASCAR, knows a thing or two about driving fast — at least the science part of it.
Marietta College's Department of Physics is excited to welcome Leslie-Pelecky at 7 p.m., Wednesday, Nov. 6. She is scheduled to talk about "The Physics of Speed" in the Alma McDonough Auditorium.
Her work has been featured in everything from TIME Magazine to the New York Times to Sporting News magazine. She blogs at www.buildingspeed.org, explaining the math and science behind current events in motorsports, and she appears periodically on the Sirius Speedway satellite radio program.
Leslie-Pelecky earned undergraduate degrees in physics and philosophy from the University of North Texas and a doctorate in condensed matter physics from Michigan State University. After 14 years at the University of Nebraska, she became director of the West Virginia Nano Initiative and Professor of Physics at West Virginia University in Morgantown.
Her current research seeks new ways to apply magnetic nanoparticles to makechemotherapy more efficient and decrease the side effects. 
Dr. Dennis Kuhl, Associate Professor of Physics, said the department will also induct three new student members into Sigma Pi Sigma during a dinner before the lecture in the Betty Cleland Room.
The students being inducted will be Joe Andler '15 (Canal Fulton, Ohio), Alexandria Jurgens '15 (Walnut Creek, Calif.) and Shaojie Zang '14(Beijing, China).