Awards handed out at annual Juried Art Exhibition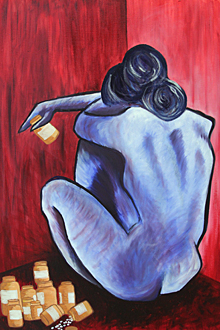 Marietta College's Art Department recently handed out 11 awards and named three students to its Circle of Excellence during the opening reception of the Annual Juried Student Exhibition.
Winning the President's Choice Award was Nikki Morrone '15 (Mineral Ridge, Ohio) for her worked entitled "Aboriginal Series." Dana Vandervort '15 (Alexandria, Ohio) received the Provost's Choice Award for "Recreation." Morrone also won the Jo-Ann Hilton Cates Award for her painting "Dancer," which was also the Student Choice honorable mention selection.
In the Painting category, Rachel McKown '17 (Beverly, Ohio) won First Painting with "Abstract," while Kat Norton '15 (Akron, Ohio) received the award for Best Painting with "Fail to Conceal" and Kendra Kwasniewski '16 (Chagrin Falls, Ohio) won Honorable Mention Painting with "Reflective," which also won the Student Choice Award.
Morgan Otto '15 (Caldwell, Ohio) won Best in 2D with "Let us see that smile," while Hailey Bennett '18 (Marietta, Ohio) was honorable mention with "Inside out Portrait."
Laura Mauer '15 (Terra Haute, Ind.) won first prize in Graphic Design with "Three in One series," while Brittany Curry '15 (Newark, Ohio) won Best in Graphic Design with "Hopped on Phonics" teaching aid.
The Circle of Excellence winners were Mauer, Molly Mays '16 (Marietta, Ohio) and Caroline Sigmon '17 (Hickory, N.C.).
The show was juried by artist Nancy Manter, who conducted a one-day workshop. Her work is on display in Gallery 310.