Back-to-back: Marietta students earn 3% scholarship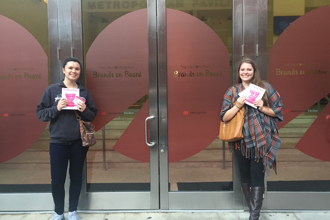 In a world where women influence upwards of 80 percent of consumer spending and 60 percent of social media sharing, it can seem a little unbalanced that women make up less than 10 percent of all U.S. Creative Directors.
In response to this disparity, media studies students Lexi Callaway '16 (Portage, Mich.) and Marge Price '16 (Hilliard, Ohio) teamed up to explain in a one minute video "Why improving the future of the ad business is everyone's business." 
Based on their video submission, Callaway and Price were selected to attend the 3% Conference, a two-day, 800-person event in New York City, free of charge.
Before the trip, Price said that the sense of empowerment and community created among women at the conference would have a great effect on her as an aspiring professional woman in the creative industry.
"Being able to connect with women in the field and hear about ways to work myself, as a female, into the industry and how to make a difference and a shift toward a more accepting and diverse culture will be an invaluable experience," she said.
While at the conference, Callaway and Price got to hear from some of the leading experts in the field and take part in professional development, speed mentoring and networking events.
"Being in the same room with the most influential creative leaders (women and men) in the advertising industry was inspiring for me as a young female designer about to graduate," Callaway said. "I heard so many amazing speakers and shook hands with some of the top creative minds in the country."
Price most looked forward to the networking opportunities and getting the chance to hear from the speakers.
"I think as a student, it is intimidating to go up to an industry professional and start a conversation, so I am looking forward to getting over that hurdle and making great connections," Price said.
For Callaway, the conference provided the unique opportunity to meet the woman that had a great impact on her chosen career path.
"I heard from Jennifer Lynn Siebel Newsom, the director and producer of the Miss Representation," Callaway said. "Her documentary is what inspired me to pursue a career in the advertising industry."
Callaway and Price also had the chance to hear from Cindy Gallop, one of the most renowned leaders changing the advertising industry, and many other trailblazers and innovators. 
They also had the opportunity to attend a Portfolio Review luncheon where they had their work reviewed by top Creative Directors attending the conference.
"I gained valuable insight into what I need to be prepared for in the advertising industry," Callaway said.
A special experience that Callaway particularly liked was the speed-mentoring event.
"It allowed us students to meet and ask for any advice from these leaders, creative directors, and art directors," Callaway said. "I met Nancy Hill the President and CEO of the 4 A's (American Association of Advertising Agencies). I learned she attended Mount Union University for her undergraduate, so she knew all about Marietta College and the small liberal arts college experience. She understood the worries I had coming from such a small school entering this competitive profession, but she reinforced the idea that in the business world it doesn't matter where you come from. Your drive and work ethic are what separate you regardless of what school you come from."  
Price and Callaway came up with their winning idea through a couple of late night brainstorming sessions.
Their advisor, Media Studies Instructor Lori Smith, helped critique their ideas for the video and is delighted their excellent work was recognized on a national level.
"I'm proud of the work that Lexi and Marge completed for their entry, and I felt their video message was important," Smith said. "It's not just about the rights of women, but everyone, no matter ethnicity or age. Of course it is wonderful that this is the second time in a row that Marietta College students have won this competition."
Last year, Charlee Ottersberg '15 and Natalie Mayan '15 were honored with the scholarship to attend the 3% conference.
The conference, which is in its third year, is billed as an "annual gathering of the country's most forward-thinking agency owners, creative directors, creatives, recruiters, clients and trend-watchers who come together to problem-solve through a mixture of professional development, networking, and idea sharing to help change the industry."
Callaway and Price's winning video can be seen here: https://www.behance.net/gallery/29968549/Join-the-Movement