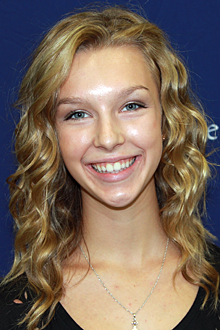 Belle Huffman '18 didn't plan on continuing her family's tradition of attending Marietta College.
Both of Huffman's parents transferred to Marietta after initially attending larger schools. A couple of uncles and several cousins have also attended Marietta throughout the years.
In high school, she looked at larger schools, including Ohio University and Kent State, but she says she realized once she stepped on campus that Marietta was the school she wanted to attend. "I just knew when I walked onto campus. It really felt like home."
Beyond getting that undeniable feeling after visiting campus, the interaction she had with Dr. Suzanne Parsons was another reason Huffman knew Marietta was where she wanted to go to school. "She's a great teacher, role model and influencer. She has people strive to be their best," Huffman says.
Besides continuing the Marietta family tradition, Huffman's choices once on campus mirror paths taken by many of her family members.
Like her mother, Laurene '91, one draw of Marietta for Huffman is its close proximity to home. Coming from a large, close family, Huffman appreciates the ease of visiting home. "I don't have a car on campus, but it's really easy for my mom to come and pick me up if I want to go home and visit for a little while." She has also followed in her mother's footsteps and become a member of the Alpha Xi Delta sorority.
Like her father, she is continuing a passion that she has loved since she was young. While her father played baseball during his time at Marietta, Huffman is on the school's dance team.
She even initially considered joining the Petroleum Engineering program like all of her cousins. Instead, Huffman is majoring in Health Science and hopes to complete Marietta's Physician Assistant Studies Program. 
After school, Huffman hopes to become a pediatrician. "Coming from a big family, I've always been around kids. I love them all, from nursery age to toddlers. I've always known I wanted to work with and help people. I know I would love it even more if those people were children."