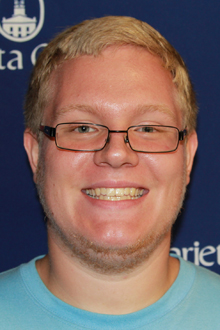 Brett Lomman '17 (Commodore, Pa.) always knew he was meant to be a student at Marietta College, but he didn't always have a plan for what he'd do once he started here. 
Though Lomman was originally attracted to Marietta because of its Petroleum Engineering program, his priorities changed once he arrived on campus.  However, after serious consideration, Lomman realized that his true goal was to become a medical doctor. He then changed his major to Biochemistry.
"I decided on Biochemistry because I always thought of myself as a doctor and to be accepted into most medical schools, Biochemistry was the major that would cover most of the entry requirements," Lomman says. "It was only after a bit of soul-searching that I realized Petroleum Engineering wasn't for me."
Lomman's decision to pursue a career in medicine stemmed from his desire to help others. Soon after he started at Marietta, he found an opportunity to act on this passion outside of the classroom by joining Pioneers in Hardhats.  
A new campus organization, Pioneers in Hardhats seeks to help build homes for needy families in the Marietta community. Lomman joined the organization after learning about it through the campus's Student Involvement Fair.
"Pioneers in Hardhats was the one club that stood out to me at the engagement fair held in the fall because I had been on missions trips prior and had been involved in several building projects," Lomman says. "I always have a blast being able to rebuild homes so some people can finally have security in their lives."
In addition to his work with Pioneers in Hard Hats, Lomman is a member of the Lambda Chi Alpha Fraternity, which he joined to further his campus involvement and to step outside his comfort zone.
"I have been able to experience a lot at Marietta, from finding myself to being involved in activities I never had an opportunity to be a part of until now," Lomman says.
Though the beginning of Lomman's college career caused him to reconsider his future plans, he never regretted his decision to attend Marietta College.
"It is truly the place to be if one wants to be part of a small school with the highest quality of education that has that great family atmosphere everyone desires," Lomman says.  "It was my only choice of schools, and I am glad to be returning in the fall."