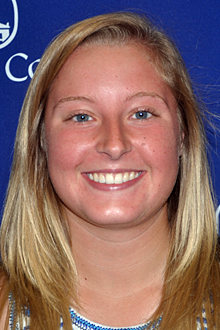 Nearly every student-athlete at Marietta College will give you a similar answer when asked why they chose to be a Pioneer.
For Brianna Finck '17, an outfielder for the Marietta's softball team, being a part of such a tight-knit group appealed to her, and that closeness also applied to the entire student body on campus.
Finck, a Public Accounting major with minors in Management and Economics, acknowledges she considered other schools in the Ohio Athletic Conference, but the personal care and interest she felt interacting with people on visits really set Marietta apart.
"Everyone I met while I visited the campus was so nice. I really appreciated how much they seemed to care and take an interest in me," she says.
In particular, Finck has formed a real connection with everyone involved with the softball team. "Coach (Jeanne) Arbuckle is very helpful. She's always concerned about all of us both academically and personally," Finck says. Besides living with three other softball players, Finck says that the team has gotten a lot closer and takes the time and makes the effort to hang out with each other off the field.
While deliberating which school to attend, Finck saw Marietta as more than just a place she could continue with the sport she has played since she was 7. "Besides softball and initially thinking I would be majoring in Petroleum Engineering, I was struck by the beauty of the campus. It's especially pretty down by the river," she says.
Like most students at Marietta, Finck really appreciates the relationships she is able to forge with her professors. "It's really nice and helpful to have small classes. It makes it possible to take the time in class to discuss things that some of us might not understand on a personal level."
Whether discussing the beauty, size, or connections made, it's pretty clear that Finck is happy with her decision to attend Marietta College.
MANDEE YOUNG