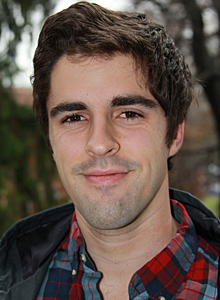 Bryan Murray '14, not yet in his last semester of college, has already been lucky enough to land his "dream job" as an employee for the national Alpha Tau Omega fraternity.
Murray will work in the "chapter services" branch of ATO, visiting colleges and consulting them on how to improve their chapter's leadership. He has yet to be assigned a region, but he hopes to be sent out west.
"In this job, you get out and meet new people all over the country, and that really appeals to me," says Murray, who describes himself as a very relational person.
Murray, a political science major, eventually intends on attending grad school and becoming an international relations professor. For now, however, he looks forward to having a job that provides a break from the educational scene. He will be one of only 21 national ATO employees.
When Murray first came to Marietta College, he had no intention to join Greek life. In fact, he didn't even realize there were fraternities on campus. Not long after he started as a freshman, however, his friends convinced him to become a brother of ATO.
Since then, he has held multiple leadership positions within the fraternity. He is currently chaplain, historian, and pledge educator. In addition, he has been on the Interfraternity Council for three years, and is currently its vice president.
"I'm very overinvolved in ATO," he said proudly.
Murray says being a part of ATO has been a large part of his personal development.
"I've learned a lot about myself and just what type of person I am," he said. "I've learned to differentiate from right and wrong, and make tough decisions."
Murray has a two-year contract set up with ATO after he graduates. After that, he will be re-evaluated for a possible third year with the organization. Murray said he didn't expect to be upset to leave Marietta College, but thinks differently now that his future is so clearly in sight.
"It's bittersweet because I have a job, but on the other hand I'll have to make new friends," he said. "What I like most about Marietta College is just the people. I have experiences with the people here, and obviously those experiences change you."
He and his family are excited, however, for the experiences his first job will bring him.
In addition to involvement with ATO, Murray's hobbies include collecting and listening to music, exercising, and cycling. He was also formerly on the Marietta College rowing team.