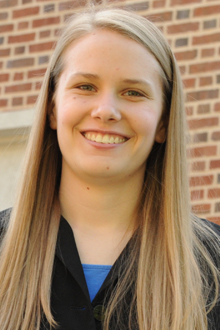 As a rising Marietta College senior, Chelsea Smith '15 (Vincent, Ohio) believes that her college experience has prepared her to reach her dream of running for public office.
From her first days at Marietta, Smith has sought out every opportunity available to her to gain more knowledge about a career in public service. While she was a freshman, Smith attended the Clinton Global Leadership Institute University in Washington, D.C.
There, she was challenged with the task of developing a mission statement about how she would like to change the world. Though Smith initially found this to be a difficult assignment, her continued involvement on the Marietta College campus quickly showed her that she would be able to impact the world around her.
"I've found my voice at Marietta and have been shown that I matter. My opinions matter, but even more than that, my actions matter and have the ability to make a difference by enriching the lives of others," Smith says. 
Last summer, Smith was one of 30 college women in the state of Ohio selected to attend the NEW Leadership Ohio program, a conference that educates women who are interested in public service careers. This program, which lasted a week and a half, helped Smith to solidify her future goals.
"I am now able to admit that I will be running for public office. I don't know when or what offices I will run for, but I know I'm going to do it," Smith says.
Smith, an English major with a minor in Communication Studies and a Teacher Leadership Certificate, hopes to attend law school after graduating from Marietta. She is currently working as a full-time, paid intern for the Marietta Municipal Court, where she helps in the courtroom and the probation department.
"I am fortunate to spend a lot of time in the courtroom, while also getting to help others and learn more about how the court functions as a system and reaffirming that I am passionate about pursuing law as my future career path," Smith says.
Though Smith's time at Marietta College is drawing to a close, she is thankful for the opportunities she's had as a student along the way.
"I never expected that I would do any of what I have done and I would not have done any of it if I had not come to Marietta," Smith says. "As I struggle to believe I only have a year left at Marietta, I can smile knowing that I have made the most of it."