CUB excited about newest event — Brunos' Choice Awards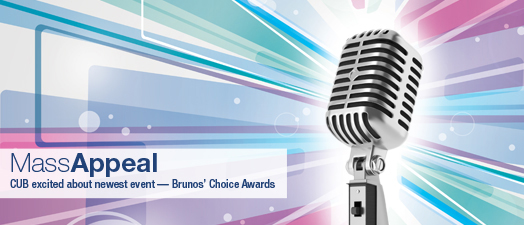 For years, members of College Union Board have worked tirelessly to develop a formula of events that would interest the larger student body.
Mallory Haynes '13 (Lore City, Ohio), President of CUB, says the organization's history has enjoyed mixed results. But she believes the 2012-13 activities have met their stated goals.
"One of the events we are excited about this semester is 'Java Jams' with Bassel and the Supernaturals," she says. "We are purchasing Starbucks coffee and giveaways, and the band will perform in The Gathering Place beginning at 8 p.m., Saturday, Dec. 1."
Haynes says they came up with the schedule after getting student feedback in the spring of 2012 through a survey.
"The survey was used to analyze the most popular music genres, places students would like to take a trip to, types of tournaments to have, etc.," Haynes says. "We used this survey as a way to help us brainstorm when planning for events this year. We also have been looking for ways to expand events."
One popular example came during Homecoming in October when CUB worked to include more student organizations and make the Cheer Competition larger.
"We wanted to make it more of a Pep Rally rather than a competition. It was the largest turn out we have had at this event in years," Haynes says.
CUB also planned an excursion to the Columbus Zoo on Dec. 1 and conducted a pumpkin carving at Halloween.
Now the group is working with President Joe Bruno and his wife, Diane, for the inaugural Brunos' Choice Awards — an open talent show for Marietta College students starting at 8:30 p.m., Saturday, Dec. 8, on Fenton Court.
"We have met many members of the College community with a dazzling array of abilities and skills," President Bruno says. "We conceived the show as an attempt to celebrate the talent on our campus and share it with the whole community."
Haynes says the first-place winner will win $250, second place will get $150 and third place will receive $100. There will also be a special prize awarded to the crowd favorite. Contestants may enter as individuals or as a group and the talent should last between 1-5 minutes. The judges will include students and employees.
"I am very excited for this event. … When Dr. Bruno mentioned creating a campus-wide talent show we were eager to assist with this event," Haynes says. "Dr. and Mrs. Bruno have shown initiative to get to know all students and are enthusiastic about working with organizations to create events. Without the two of them, this event would not be as great as I predict it will be. Brunos' Choice Awards is a way to not only involve more students on campus, but it also provides a chance for students to relax and have fun before finals begin."
Anyone interested in performing can sign up at https://docs.google.com/spreadsheet/viewform?formkey=dGFRNDVCQmZLOGdleVVzWUc2WE1ZbEE6MQ.
Haynes is confident CUB can continue the momentum into the spring its first Spirit Week from Jan. 28-Feb. 2. The entire campus community will be invited to participate, including a department and office Pioneer Spirit decorating contest, Pioneer Prize Patrol, and some spirit item giveaways.
"Involvement on campus is very important because research shows that students who are engaged in at least one activity on campus are more likely to persist to graduation," Haynes says. "As the primary programming body on campus, CUB's purpose is to serve as the opportunity provider for students to find things to do at Marietta College. We also have a lot of fun as a board and gain a lot of leadership experience through event planning."
Ellen Wehrman, Associate Dean of Students, is impressed with the hard work and variety of programs set up by CUB.
"CUB came into this school year with only the first six weeks of school scheduled with events. They have now planned the rest of the school year and some events for next fall," she says. "They are making great strides in improving the quality of the events, as well as being more responsive to the needs and wants of the Marietta College community. CUB is also looking for exciting new members to join us in the spring, so all students should consider joining the crew in January."