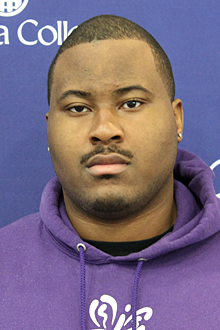 D.J. DePriest transferred to Marietta College after completing his freshman year at another school and quickly became involved in the many activities offered on campus.
DePriest, a native of Cleveland, Ohio, plays football for the Pioneers, competes on the College's forensics team, and serves as the president of a newly established campus organization, Alliance for Males Enriching our Neighbors (AMEN). 
DePriest is an English major with a minor in political science, and he hopes to attend law school upon the completion of his bachelor's degree. He believes his participation in forensics has helped him develop the necessary skills to be an attorney.
"From being a part of the forensics team, I've learned a lot about public speaking and a lot of the key traits that a lawyer needs," DePriest says. "Public speaking is not one of my strong suits — I personally strongly dislike it — but being able to go out there and provide an argument under fire is a great trait that they're teaching us here."
In addition to his participation in forensics, DePriest has worked with a group of his friends to establish AMEN on the Marietta campus. The goal of AMEN is to generate awareness of the diversity at Marietta College and to create positive change in the Marietta community through service and education. Based on the backgrounds of AMEN's members, the group chose the Marietta Family YMCA as its primary philanthropy.
"We really just want to promote positive male leadership in the Marietta community, which is one of our main goals," DePriest says.  "One of our philanthropies is the YMCA because a lot of us came from families that weren't as fortunate as everyone else."
DePriest's wide range of campus involvement has shaped his Marietta experience and served as a vital step in reaching his goal of becoming an attorney.
"I feel like everything I'm involved in has been impactful," DePriest says.  "Football has given me discipline, forensics has actually taught me what it takes to be a lawyer, and AMEN has taught me the importance of giving back to the community."