Dr. Eric Limegrover — Health and Wellness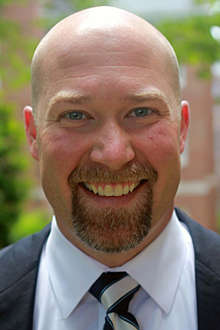 During his time in graduate school, Dr. Eric Limegrover discovered his passion for counseling college students. Limegrover, who serves as Director of Marietta College's Dr. J. Michael Harding Center for Health and Wellness, has worked with students in numerous capacities since his appointment to the position in 2012.
Limegrover's interest in helping college students began while he was pursuing his doctorate in counseling psychology at West Virginia University. As part of the program, he was required to complete a counseling internship. After interning at Miami University in Oxford, Ohio, Limegrover found his niche in college counseling.
"I think there's just something about working with college students, or this aged population," Limegrover says. "Being able to see students getting ready to make a huge impact in the world is just really rewarding."
Though Limegrover has worked in both inpatient and outpatient health and owned a private practice, his desire to work with students has endured.  When the position at Marietta College was posted, Limegrover thought "it seemed like a natural fit."
At Marietta, Limegrover is involved in aspects of the campus community that extend beyond his position at the Center for Health and Wellness. He has taught a course in substance abuse treatment for the Department of Psychology and a course in child psychiatric disorders for the Education Department.  
"Because of the size of the school, and because of the opportunities I have here, I am able to enjoy working with students in a lot of different capacities," Limegrover says.
Limegrover also serves on the College's accreditation committee and the Compass team, which focuses on student retention and involvement. He is a member of the Washington County Suicide Prevention Coalition and will be working in the fall to train individuals to spot and respond to mental health emergencies.
The multifaceted nature of his position is what Limegrover likes best about his job.
"I love being able to wear multiple hats — as far as teaching, being able to counsel students, and developing policies and procedures, " Limegrover says. "I like having multiple different things throughout my workweek.  If I was only doing one activity for my time here, I don't think I would enjoy it as much."