Emily Schuck — Director of Financial Aid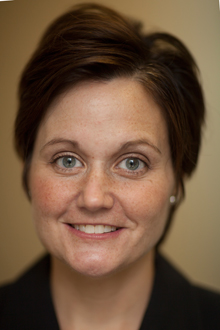 Emily Schuck — Financial Aid
Emily Schuck '97 has watched many families struggle with the intricacies of student financial aid.
She considers her role as Marietta College's Director of Financial Aid Services to be one of master communicator as she tries to simplify the process and ease the stress for families.
"Financial aid is a difficult process for many students and families to navigate," she says. "I hope to bring resources and clarity to the process so that students feel comfortable with their financial aid packages. I want to empower students to make informed decisions about their financial aid options and to understand the impacts of those decisions now and after they graduate."
It helps that she is well versed in this world as she arrived at Marietta in the fall with 11 years of higher education experience. Prior to joining Marietta, Emily held a similar position at Washington State Community College.
Emily also earned two degrees from Marietta — Bachelor of Arts in Psychology in 1997 and a Master of Arts in Education in 2007.
"Coming back to Marietta College has been like coming full circle. I credit the liberal arts education I received at Marietta for my success in the financial aid field," she says. "This position requires excellence in communication, technical skills and analytic abilities that I developed during my time at Marietta College. I couldn't be more excited to step back onto campus and be a part of where Marietta College is headed in the future."
Emily lives in Marietta with her husband, Brian, and they have three children — Kennedy, 12, Courtney, 10 and Addison 4.
TOM PERRY