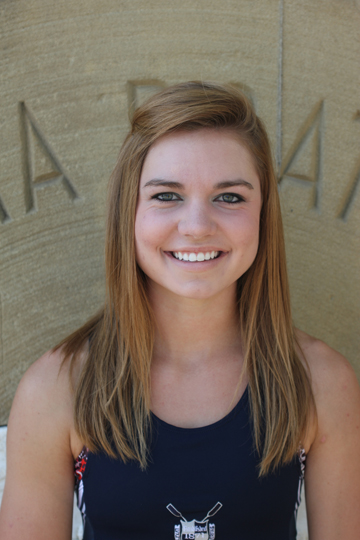 When Erika Gill '15 stepped onto Marietta's campus for her first days of college, she never imagined that her first year would see goals, both new and lifelong, already achieved.
A Middle Childhood Education major, Gill has dreamed of being a teacher since the first grade, drawing her inspiration from the teachers who've led her here. By her spring semester, Gill was in a classroom leading small lessons and observing, an opportunity she thanks Marietta for.
"MC placed me in a school to work with a teacher who taught seventh- and eighth-grade science. This allowed me to assure myself that I am on the right career path," Gill says.
But Marietta College would also offer her a new passion — and with it, unexpected success.
A track and cross country runner in high school, Gill noted on her application to Marietta an interest in pursuing women's crew. After interviews with the coaches and a rigorous preseason, Gill participated on the team as a novice, and by the end of spring was able to boast that her name would be in the Pioneer record books. The women's team finished fifth at the NCAA National Championships in New Jersey, the best placement in program history.
"I know this may sound cheesy, but you can do that at Marietta, you can make history," Gill says. "Words cannot even begin to describe my feelings toward my teammates and coaches that made this experience exist."
Going into her second year, Gill is also a member of Greek life and hopes to continue seizing any open doors that she discovers in her time at Marietta.
"Ultimately Marietta was the best fit for me," she says. "I was certain it would give me the chance to break out from my shy reputation and openly discover myself. It's one of those things you kind of just know, like when you try on the perfect pair of shoes."