Forensics places second in OFA Championship-President's Division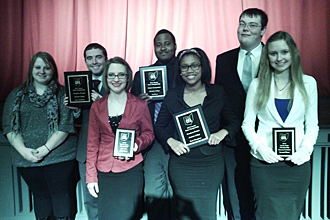 Marietta College claimed three awards, including second place in the Team Sweepstakes-President's Division, in the Ohio Forensics Association State Championship on Feb. 15-16.
Kayleigh Bondor '17 (Canton, Ohio) finished second in Rhetorical Criticism, while teammate Elaina Eakle '16 (Whipple, Ohio) finished sixth in Informative Speaking.
Also competing for Marietta were: Ryan Childers '16 (Vincent, Ohio), Chanell Cornett '17 (South Euclid, Ohio), Darnell DePriest '16(Cleveland, Ohio), Clayton Evans '17 (Salem, W.Va.) and Elizabeth White '16 (Crooksville, Ohio).
Schools in attendance included Bowling Green State University, Cedarville University, Kent State University, Miami University, Ohio University and University of Akron.
Director of Forensics Tomeka Robinson and Assistant Director of Forensics Sabrina Wittekind coach the team.
The Pioneers are ready to begin their nationals season this weekend by competing in the Public Communication Speech and Debate League National Championship in Indianola, Iowa. Robinson said this is the team's first appearance at this national event.