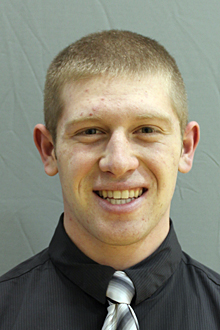 Becoming a member of the baseball team was what initially drew Ian Luttrell '18 to Marietta College. However, many other aspects of the College have proven to be just as pivotal in shaping Luttrell's satisfaction with deciding to attend Marietta.
Luttrell, a Sports Management Major with a Leadership Studies minor, was also drawn to Marietta College for its small size and the McDonough Leadership Program.
Coming from a suburb of Chicago and a high school of 3,400 people, it may seem odd that Luttrell decided to attend Marietta, the smallest school he considered. While he never looked at a school that had more than 6,000 students, Luttrell acknowledges that it's a bit weird to decide to attend a college that has nearly half the population of high school.
No matter, Luttrell thinks choosing Marietta was definitely the best decision. "I have so many close friends here. The school is in an area I like. While it may seem ridiculous since I'm from Chicago, I'm not attracted to the big-city atmosphere."
While eight hours away from home, Luttrell is enjoying the distance. "It's nice to be away and have to fend for myself in a sense. There's no way for me to just go back and hang around at home. I have to be responsible."
Even though he was excited when he learned he was accepted into the Leadership Program, Luttrell now credits its EXCEL Workshop with introducing him to most of his close friends and being the perfect beginning to his college experience.  
"EXCEL and the ideas and teachings gained from the Leadership Program are something that not many other schools can provide. For EXCEL, we got to come to campus a week early and get to know all of the other members of Cohort 28," he said. "It was really interesting to get to meet this group of people who come from all different walks of life but are still extremely compatible and supportive after one day. I met almost all of my close friends through EXCEL."
Luttrell also enjoys the personal relationships he has been able to form with professors. "I can go and ask for help without feeling like I'm bothering them or intruding. It's clear that they all are interested in me as a person and want to see me succeed."
As for baseball, the practices may be difficult, but Luttrell says they aren't anything he didn't expect. "It's a good program. It's a team that works hard and is dedicated, that gives the highest level of performance on and off the field," he says.
Looking ahead toward this season, Luttrell hopes the team's hard work pays off. "How we play will hopefully help prove that we are and always will be one of, if not the best, Division III teams."