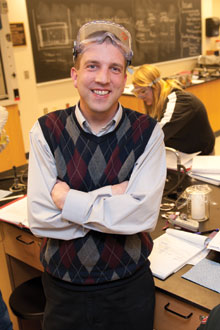 There are about 15 minutes to spare before Dr. Kevin Pate's organic chemistry class starts but a small group of students are already poring over their notes.
It must be exam day.
Very little conversation takes place beyond the "Hey" or "Did you get this?" as more students take their seats, open their notes and study.
At 9 a.m. sharp, Dr. Pate enters the room and glances at the clock. "Alright, let's start with the quiz," he says, writing three compounds on the whiteboard. "Which of these is most acidic?"
Seconds pass as students jot down A, B, or C on their quiz sheets. After one minute, Dr. Pate begins to gather the papers and give students a run-down on several class announcements.
"We have a minute quiz at the start of every class," says Christine Widgren '12 (Lake Orion, Mich.), a Biology major who is also pursuing a minor in Chemistry. Her goal is to become a physician assistant. "Dr. Pate was up front about this class being very difficult — his classes are always tough. He prepares us for success as much as he can, but obviously the rest is up to us."
Pate agrees his Chemistry 304 class is intense, but he adds that with his high expectations comes significant access to help. From weekly help sessions and open office hours to multiple test prep ideas and email, students have ample opportunities to gain a better understanding of the material covered in his course. His minute quizzes focus on the material covered during the previous class and force students to keep up with their daily studies.
"They know I hold them to a very high standard," Pate says. "But they also know that I'll do anything I can to help them succeed."
Pate spent his undergraduate years at a small, liberal arts college and earned his doctorate from Yale University. "I personally know the value that this type of education offers the undergraduate student," he says. "This hands-on approach and the one-on-one attention that our students receive now is invaluable to their critical thinking skills. And really, that's what it's all about—having the ability to think your way through things. That knowledge lasts a lifetime."