Kimball participating in local 'Dancing With the Stars'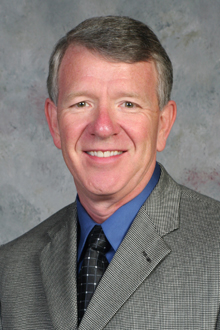 Marietta College's Marshall Kimball, Associate Professor of Music, is bound and determined to raise money for the Washington County Red Cross this November — and he's going to do it by dancing.
The Red Cross has been working tirelessly to raise money in the aftermath of Hurricane Sandy, and Kimball is excited to do his part to help.
On Friday, Nov. 30, the Washington County chapter of the American Red Cross will be hosting an event titled "Dancing With the Stars" at the Marietta Shrine Building in Marietta. Doors open at 6:30 p.m. and the dancing begins at 7.
Kimball will be dancing with Stacey Heiner Heaton, a former student of his, and encourages all members of the Marietta community to attend or at least vote. Each vote costs $10, but attendance at the event is not required in order to submit a ballot; those interested in doing so can get a ballot from Kimball or e-mail him and request a digital copy.
"Come and enjoy a great night of fun and laughs," Kimball said. "I'm sure I'll furnish plenty of laughs. Help spread the word to colleagues and friends. Let's, as a community, raise lots of money to benefit this great organization."
And, of course, he had to say: "AND HELP ME WIN!"
Erica Goebel '16 (Rittman, Ohio) is excited to see her advisor "step out of his comfort zone."
"My sorority, Omicron Chi Theta, also supports the American Red Cross, and I'm proud that my advisor feels as strongly about the cause as I do," she said.