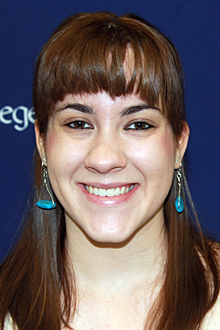 Like many students, Lacey Caparanis '15 (Warren, Ohio) knew after her first visit that she wanted to attend Marietta College. "No where else compared. I only applied to Marietta," she says.
Caparanis, who will graduate in May with a Bachelor of Arts in Psychology, certainly found a home at Marietta College. The beauty of the campus and the feeling of living in an old, small, historic town is what initially attracted her to the College.
It was what came from attending a small college that Caparanis fell in love with.
"I absolutely love that everyone knows each other," says Caparanis, who also plan to earn minors in English and gender studies. "All of your professors know you. You become really close with all of them, and they still care about you after you graduate."
Caparanis already knows that the close-knit community of Marietta College is what she'll miss the most after graduation. "There are so many people who touch your life in little ways, and often times you don't notice those impacts until you no longer see each other every day."
Throughout her time at Marietta College, Caparanis has made it a personal mission to provide a warm and inviting group outlet that anyone can be a part of. Caparanis has been a member of The Alliance since her freshman year and has served as its President for the last three years. The Alliance is the College's LGBTQ+ and diversity student organization.
Caparanis makes sure the mission of The Alliance is always maintained.
"We all strive to make sure anyone that comes to our meetings feels safe and accepted regardless of identification, race, religion, or any other differentiating characteristic," says the McDonough Leadership scholar.
She doesn't take all of the credit for The Alliance's notable growth though. "I have a great support system from our executive board and we've had great faculty advisors, which currently includes Joe Hohman."
Although she has loved her time at Marietta College, Caparanis is excitedly looking toward the future. After graduation, she plans to obtain a master's degree in clinical mental health counseling. Even though she hasn't determined what school she wants to attend, Caparanis knows she wants to live in a city.
"My goal is to be able to live in a city and work at a LGBT counseling center. I'd also love to be able to write a book of fiction, probably consisting of short stories."