Marietta places 18 on 'Who's Who' annual list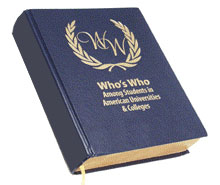 Eighteen Marietta College students were recently selected for the 2013 "Who's Who Among Students in American Universities and Colleges."
Since 1934 students have been honored in the annual directory as outstanding campus leaders of the year. "Who's Who Among Students" gives each chosen student national recognition as well as one of the most notable academic awards.
Students are nominated by committees and editors of the directory based on their individual academic achievement, service to the community, leadership in extracurricular activities and potential for continued success. 
This year's edition of "Who's Who Among Students in American Universities and Colleges" includes Marietta College's Ryan Cahall '13 (Milford, Ohio), Chelsea Clyde '13 (Franklin, Pa.), Lauren Currie '13 (Lockport, N.Y.), Daniel Hartman '13 (Cincinnati, Ohio), Sean Hoover '13 (Kent, Ohio), Christina Johns '13 (Mayfield Heights, Ohio), Matthew Johnson '13 (Cambridge, Ohio), Andrew Kasick '13 (Marietta, Ohio), Alyse McNeill '13 (Glenshaw, Pa.), Caleb Muller '13 (Bexley, Ohio), Elizabeth Oswalt '13 (Delaware, Ohio), Jessica Penny '13 (Bellefontaine, Ohio), Benjamin Reese '13 (Marietta, Ohio), Justine Schneider '13 (Sheffield Lake, Ohio), Jessica St. Clair '13 (New Concord, Ohio), Samantha Thomas '13 (Lorain, Ohio), Connor Walters '13 (Bay Village, Ohio) and Kasey Woodworth '13 (North Berwick, Maine).