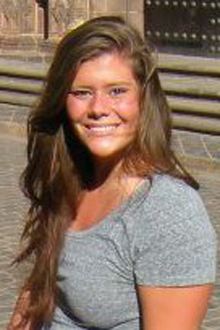 Off the Mall
Hometown: Circleville, Ohio
Favorite Breakfast Food: "I eat oatmeal almost every morning."
Favorite Movie: Breakfast at Tiffany's
Mary Roberts '14
During spring break of 2012, Mary Roberts '14 could not be found at a tropical destination with thousands of other college students or at home catching up on her sleep.
Instead, through Marietta's Office of Civic Engagement's alternative spring break, she was in Pine Ridge, S.D., one of the poorest places in America, working on service projects to help the native Oglala Lakota people and to dive into their culture.
Roberts, a senior majoring in Broadcasting and International Leadership Studies, thrives in experiences such as this one, her journalistic nature coming alive with the new sights and interactions.
"In South Dakota, I met a woman selling beadwork from her car on the site of the Massacre of Wounded Knee. I took a photograph of the woman and soaked in the stories that she told of her people," Roberts says. "My admiration of and fascination with this woman was vast and, at that moment, I knew that I wanted a career in the media so that I could share stories like hers on a large-scale platform so that more people could hear them."
Roberts was accepted to some of the most competitive journalism programs in the country, but ultimately chose Marietta because of the unique opportunities, like alternative spring breaks, the liberal arts experience, and the active student body. And it did not take long for her to become one of those students whom she admired on her first campus visit. She is now, among other titles, the news director for WCMO-15, editor-in-chief for The Marcolian, and a member of both the Honors Program and the Leadership Program. She even served as her sorority's president last year. She also studied abroad in Peru during the spring 2013 semester. 
"These experiences have helped prepare me for my field, meet unique people, and affirm my passion for broadcasting and journalism. I always get excited thinking about my future in this field. It's my passion."