Move-In Day, Matriculation just the start for Class of 2017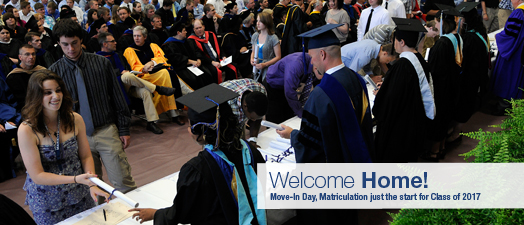 You received your official notice of admission months ago, and the excitement of picking a college has subsided. Now it's time for a reality check.
Are you ready for a life-changing experience? We hope so.
In days you'll be moving into your new home on the campus of Marietta College and join the Class of 2017 and eventually become a member of The Long Blue Line as graduates.
You should have it on your calendar, but here is a friendly reminder — orientation weekend begins with the annual Move-In Day on Friday, Aug. 23. Families will arrive starting at 8 a.m. and the moving in process will continue throughout the morning into the early afternoon.
Greek movers have volunteered again to assist the freshmen as they find their rooms in the College's housing off of Butler Street. Dean of Admission Jason Turley is anticipating around 400 freshmen and 50 transfer students this fall.
"I want to welcome all of our new students and we are pleased they have chosen Marietta College to continue their education," says President Joseph W. Bruno. "It's never easy to say goodbye to your family and friends, but we are confident you will be engrossed in the academic rigor we provide at Marietta, and we believe you will make new and life-long friendships once you settle in to your new home."
At 3:30 p.m., parents and families are invited to stay for the traditional Matriculation ceremony on Fenton Court. This event is one of only a two times — the other being Commencement — when the entire new student class is together in one place.
Matriculation marks a student's formal enrollment in the College. The event begins with the traditional procession of the faculty, in full academic robe. The Matriculation ceremony includes the Charge to New Students from the Dean of the Faculty as well as official greetings from the President, Dean of Students, the Mayor of Marietta and the President of Student Senate. The ceremony concludes with each student adding his or her name to the Marietta College Matriculation Book.
Classes begin at 8 a.m., Monday, Aug. 26, but there is much more to the first week and getting acclimated with your new surroundings. The Office of Campus Involvement has organized Welcome Week 2013 and it begins with Speed Greeting at 7 p.m. in The Gathering Place. The idea is to meet as many Pioneers as possible in one hour.
Activities continue throughout the week, including a Trivia Night, Tactical Laser Tag and an eclectic comedy show called Dakaboom.
Any students looking to do some long-range planning, here are some important dates to note:
Family Weekend: Sept. 20-21
Fall Break: Oct. 5-8
Homecoming: Oct. 11-13
Preregistration for Spring 2014: Begins Oct. 28
Thanksgiving Break: Nov. 27-Dec. 1
Finals Week: Dec. 9-13
Winter Break: Dec. 14-Jan. 12
179th Founders Day: Feb. 13
Spring Break: March 8-16
Preregistration for Fall 2014: Begins March 25
Finals Week: April 28-May 2
Commencement: May 11