Multiple opportunities have prepared alumna for grad school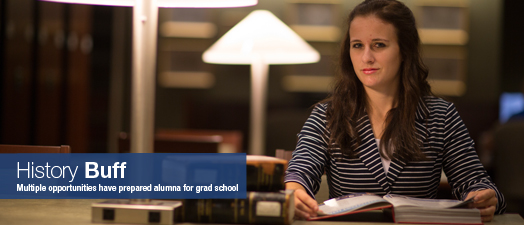 This story originally appeared in the Spring 2014 edition of Marietta, The Magazine of Marietta College.
---
Quietly researching in Legacy Library's Special Collections, Katherine Tedesco '14 is in a place that has become her second home since arriving on campus in fall 2010.
A familiar face to those who work with the College's archives, Tedesco has spent many hours in Special Collections, examining historic documents and photographs preserved there.
In recent years she used the materials as part of her Investigative Studies project and her capstone project. While Tedesco earned a Bachelor of Arts in History in May, her days of research are far from over — and she's ecstatic about it.
Working at a museum has always been part of her long-range plan. This fall she is headed to Seton Hall University in South Orange, N.J., to work on a Master of Arts in Museum Professions.
"I have been looking at museum programs in general and I was sort of confused with what you came out of there with. I didn't see a curriculum that helped you come out with a profession," she says. "But the program at Seton Hall puts you on track in one of four disciplines in museum work, so I'm very excited about this next step."
Tedesco's hard work as an undergraduate in classes with Drs. Matt Young, Andrew Wehrman and Katy McDaniel has prepared her for this next step.
"Katherine is one of those Marietta College students who is determined to go after everything possible while she's here; she seizes opportunities with enthusiasm and ambition," says McDaniel, McCoy Associate Professor of History. "Katherine knew she wanted to study History and row for crew when she first came here as a freshman, but her larger life interests and goals have really developed and become more sophisticated as she's explored all that Marietta College has to offer. She's always asking questions, pursuing topics of interest to her, intentionally building skills and seeking out new experiences, whether in the classroom or outside of it."
Probably the most transformational experience in Tedesco's academic career happened in summer 2013 when she completed an internship with the Naval History and Heritage Command — Underwater Archaeology Branch in the Washington, D.C. Navy Yard.
She was predominantly a research intern and the encounter helped her realize her future.
"After working there I learned I really like exhibition development. I wasn't able to physically create a display, but I witnessed several displays being formed and presented to the public," says the Upper Arlington, Ohio native. "I also realized that I want to work in a military museum again. Now if I get the chance to work at the Smithsonian I won't be upset, but there is something special about military museums and how they connect a veteran to a time in their life or how it helps the survivors of a veteran get a perspective that they couldn't have otherwise."
Tedesco, who is also a four-year letter winner on the women's crew, is confident that what she has learned at Marietta will help her succeed in graduate school and in her future career.
"The small environment really does help. The whole History Department has been great. I also think it helps to be surrounded by a group of students who really want to get involved," says Tedesco, a sister of Chi Omega. "A good example of how far I have come is when I presented my capstone project. I was nervous, but just knowing I was able to do it makes me proud. Four years ago I would have said there was no way I would be good enough to do something like that."