Nicole Braddock Bromley '02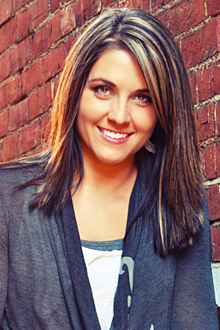 Nicole Braddock Bromley '02 had a secret no child should ever have to keep.
From the time she was a young girl she was being abused. Her secret was masked behind the facade that she was a popular, successful student who excelled in sports. The first time she found the courage to speak, she was 14. Her mother asked if Bromley noticed her stepfather acting strangely—"And that's when I told her everything—it was the first time I said what was happening to me out loud."
The mother and daughter left the home and went into hiding as police investigated. Within a week, her stepfather committed suicide and Bromley, once again, fell silent about her secret.
"I felt so ashamed," she says. "And then a year later, I went to a church camp." It was there, among virtual strangers, she shared her secret. When she returned home, she began receiving letters from fellow campers who had also been abused but didn't have the strength to tell. "Feeling it in my heart and soul—as hard as it was for me to tell my story—it was worth it to let people know that they were not alone."
Bromley transferred to Marietta College to play basketball and majored in psychology. She worked closely with
Dr. Mary Barnas
, McCoy Professor of Psychology. "She did her senior internship with me at the (Supervised Visitation Center)," Barnas says. "She was always a really motivated, organized kid…Although I was aware of Nicole's early abuse, it was clear she never let it interfere with her excelling in every way. I think the way her mother handled the abuse so immediately and appropriately helped with that."
It was during her time at Marietta that Bromley began sharing her story of childhood abuse with the public, which has spring-boarded into a career. In 2002, she founded OneVOICE Enterprises to educate and raise awareness of abuse issues. These days, the mother of two young children, lives in the Columbus area with her husband, earning a living as an informational and inspirational speaker. She is the author of Hush: Moving from Silence to Healing After Childhood Sexual Abuse and Breathe: Finding Freedom to Thrive in Relationships After Childhood Sexual Abuse.
"I travel around the world now, speaking about sexual abuse, rape and sex trafficking," Bromley says. She has been the guest speaker at women's conferences, church groups, high schools, colleges and was hired by an East African government to conduct educational seminars on the topic. "This isn't about me anymore. Rather, I am using my story as a platform for others to share their story…My point is to raise awareness about these issues and break the silence. The first step to healing is raising your voice."