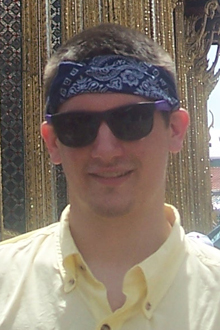 Off the Mall
Hometown: Glenshaw, Pa.
Campus Involvement: Lambda Chi Alpha vice president, Interfraternity Council vice president, Phi Alpha Theta history honorary, Theater, Men's Ensemble, Oratorio choir
Three Items Necessary on Deserted Island: A machete, a hammock, and the Boy Scout field guide
Patrick Tegge '14
For Patrick Tegge '14, traveling is not a hobby he simply checkmarks on applications; it is his passion. And for him it is about more than collecting stamps in his passport.
"I believe experiencing the world helps to enlighten the traveler to the possibilities the world offers," Tegge says.
This History Education major has traveled all over the U.S. and beyond, including destinations like St. Thomas, Arizona, Belize, Delaware, Mexico, and the U.S. Virgin Islands. His most noteworthy travels include a backpacking excursion through New Mexico and multiple service-based trips to Nicaragua.
What he enjoys most about these types of expeditions is their non-tourist nature. In Nicaragua, an alternative winter break trip organized through Marietta's Office of Civic Engagement, Tegge, along with several other students, experienced authentic Nicaraguan living while also assisting in the building of houses. On the most recent trip, Tegge served a student leader, charged with the responsibilities of leading educational reflections for his peers.
"My most life changing moment was being in and feeling and seeing the sense of community and happiness that the Nicaraguans possess. Unlike the U.S., they include everyone in everything that they do. This was true of the work as well. Anyone from small kids to older adults pitched in and did what they could."
Tegge, who traveled to Thailand and Cambodia during the late spring of 2013, is now considering the possibility of pursuing a teaching career abroad, by such means as through the Peace Corps. This would marry his love for travel with his other major life passion: teaching.
"I have always loved to travel and my trips to Nicaragua with the Office of Civic Engagement have increased my need to see the world. The high standards (in Marietta's academics) have allowed me to gain knowledge from my classes as well as push me to become better in my field of study," he says. "Marietta has definitely had an impact on pushing me toward my goals. I have learned to step outside of my comfort zone to experience life to its fullest."