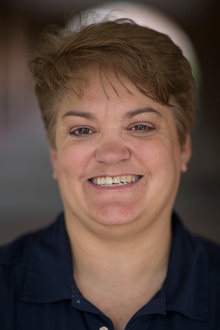 Penne Riffle '16
After serving in the U.S. Air Force for 20 years, E-5 Staff Sergeant Penne Riffle '16 was ready for a new challenge.
In the military, she spent a dozen years working as a Precision Maintenance Electronics Laboratory Craftsman calibrating and repairing electronic equipment, and eight years as an Education and Training Manager making sure the service men and women met their career field training and deployment training requirements.
At Marietta, she is double-majoring in Studio Arts and Graphic Design.
"My son Jakob is a junior at the Washington County Career Center," she says. "Jake is very supportive; tells everyone his mom is a college student. And he helps out more around the house, which is nice. And as a single parent, I could not have returned to school without my parents Dariel and Louise Riffle. They have been extremely helpful in chauffeuring him around and feeding him when my class schedule conflicts with his activities."
While serving in the Armed Forces, Riffle began her career at Lackland Air Force Base in San Antonio, Texas, and ended it at Seymour Johnson AFB in Goldsboro, N.C., with interim assignments in Colorado, New Mexico and Guam. These days, she spends much of her time in the Hermann Fine Arts Center, the commuter lounge in Upper Gilman, and in the library, when she's not in class or "doing the mom thing." Transitioning from having a full-time job in the military to being a full-time student has been challenging, learning to budget her time differently, refocus and apply what she read or learned in class.
"I believe I have adjusted well; all my instructors have been very helpful and my classmates have been great," Riffle says. "I love learning from the 'younger' generation; I learn so much from them."
Her favorite part about being a college student is having many opportunities to learn.
"I have always been a reader and liked to know the how and why of things; and I have always been interested in what is going on in the world," she says. "Now with classes like Alternative Energy and Alternative Religions, I understand the why behind so much of the turmoil in the world and here at home. I especially like looking at things differently. The military is a very black/white, yes/no kind of world. Now I get to see the grays and the maybes."
Riffle is very happy that she chose to expand her education, though she doesn't know exactly how she will use her degrees.
"I am very glad that I made the decision to come back to school," she says. "I tried it 24 years ago and did not appreciate it and work at it, and now I do and I am willing, able and excited to work and learn new things. I was proud to serve my country in the Air Force, and am grateful for the GI Bill and Marietta College Yellow Ribbon program that allows me to attend Marietta College. I have already learned so much and look forward to learning so much more. I want to thank all my instructors, my advisors and the administrative staff for making this dream a reality. I would also like to thank my classmates for accepting me and encouraging me as a peer; their assistance and energy have helped me more than they will ever know."