Peter Yarrow in concert at Marietta's Alma McDonough Auditorium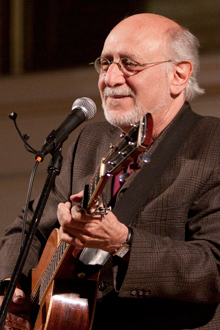 Legendary musician, songwriter and activist Peter Yarrow from "Peter, Paul and Mary," will perform a benefit concert at Marietta College's Alma McDonough Auditorium at 7 p.m., Thursday, Sept. 17.
Yarrow has entertained generations of audiences since Peter, Paul and Mary became internationally known in the early 1960s. As a member of that musical trio for 50 years, he has earned five Grammys and an Emmy nomination, as well as recording eight gold albums, five platinum albums and six Top 10 hits.
Yarrow's songwriting abilities are on display with some of Peter, Paul and Mary's biggest hits, including "Puff," "Day is Done," "Light One Candle" and "The Great Mandala."
Tickets for the concert are limited and cost $10 for students, $25 for general public and $50 to visit with Yarrow at a post-concert reception, one autographed book and a ticket to the concert. To purchase tickets, please go to https://secure.touchnet.com/C23012_ustores/web/product_detail.jsp?PRODUCTID=165.
Yarrow is conducting the concert as a fundraiser for the Luce Foundation's charity — Orphans International.