Reese '13 believes Marietta has given him the tools to succeed at Michigan Law School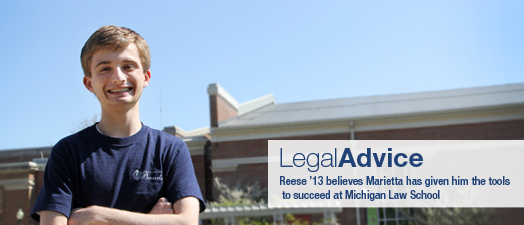 It's hard to imagine Ben Reese '13 (Marietta, Ohio) being intimidated.
After a stellar academic career at Marietta College that started when he was a junior at Marietta High School, Ben was feeling the pressure as he visited some of the top law schools in the nation.
"Law school is hard and when you first walk onto many of these campuses it is overwhelming," says Ben, who will attend the University of Michigan Law School this fall. "I think during the process of interviewing and talking to (law) students, I felt like I was in the same place as everyone else who was coming there. In some ways, I was better prepared than I expected to be. Academically I have been challenged at Marietta to take this next step. … I felt a lot more comfortable than I thought I would."
His choice wasn't as popular with his parents, Kimberly and Bill, who both attended Ohio State. They have just one request for Ben when he arrives in Ann Arbor — he can't root for the Wolverines.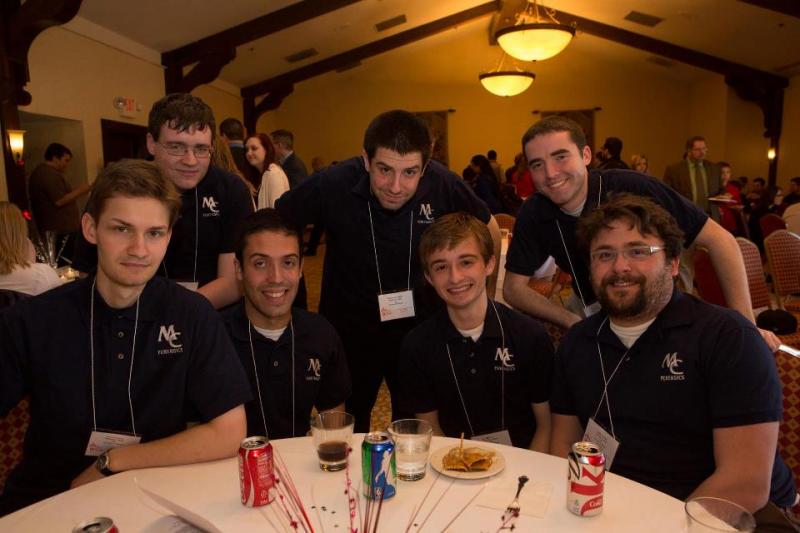 "I'm afraid they will be sorely disappointed," Ben jokes.
It will be nothing but smiles when Ben receives Bachelor of Arts degrees in both Political Science and Economics at Marietta College's 176th Commencement on Sunday, May 12. He will be joined by approximately 325 other graduates for a ceremony that begins at 1 p.m. in the Dyson Baudo Recreation Center and includes a keynote address from Pulitzer Prize winning reporter Carl Bernstein.
And while Ben was a regular on the Dean's High Honors list and was recently inducted into the prestigious Phi Beta Kappa honor society, his existence on campus runs much deeper.
Community service? Ben volunteered weekly at the Ely Chapman Education Foundation in Marietta. This experience helped shape his outlook on where a law degree will take him.
"I want to help people and try to make the world a better place. You can do that through private practice, but through the government it is a more direct path, so I want to work in public service," he says.
Research? Ben has completed undergraduate capstone projects for both majors and completed an Honors thesis project this semester. Dr. Mark Schaefer, Associate Professor of Political Science, directed Reese's senior capstone project, as well as his Research Honors project. Schaefer is impressed by Ben's competitiveness and says his determination can be seen in how he prepares for his final courses at Marietta.
"Ben is in my Political Science 230 class, International Relations, a class he could simply walk through given his more advanced course work in Political Science," Schaefer says. "Despite his wealth of understanding in this area, he was the first student to turn in a rough draft of the final paper and he was the first student to turn in his final draft. Ben never settles."
New challenges? Ben was recruited to join the forensics team soon after he arrived at Marietta. Though somewhat introverted, he wasn't sure he could deliver his best performance. Not wanting to back down from a challenge, he joined the team. A few weeks ago, Ben was named an All-American at Pi Kappa Delta nationals.
​"I have always known that Ben would do great things. He told me as much when he was a freshman, when he informed me that he would be attending a top law school," Schaefer says. "I could tell at that point that we had a very rare find, for Ben was not only exceptionally bright but constantly driven for perfection. He will be a model law student, and will excel wherever his legal profession takes him."
Schaefer has just one regret.
"That he has chosen to go to law school, instead of pursuing a Ph.D. in Political Science. But, Political Science's loss is the legal community's gain," he says.
Attending law school has been a goal since Ben was 16 years old. This spring he narrowed his options to Michigan, Vanderbilt, Cornell and the University of Chicago. After visiting each one, it became clear he would be a Wolverine.
"It was a tough decision between all of them as all of them are great schools and all of them have opportunities. After visiting, it wasn't all that tough of a decision. The people (at Michigan) seemed like they were enjoying each other. It's where I felt the most comfortable," Ben says. "It's the place that reminded me most of Marietta. The people there got along and the faculty met with the prospective students. That's something Marietta's faculty would do."
Marietta College's faculty is a huge point of pride for Ben. He believes there is a myth that to get the "high profile opportunities" you want in college you have to go to a big university or prestigious school.
"It's not the case. It would be easy to get lost at the other institutions. Marietta provides all of the resources you need and the faculty are willing to take the extra effort and they'll be here until 8, 9 or 10 o'clock," says Ben, who was also McDonough Scholar. "This environment is what prepares you much better because it is a community and a community dedicated to success. Any faculty member I have had will answer questions via email or a phone call at ridiculous hours. I've sent emails at 11 at night and think I'll get something by 10 a.m. the next day, but they get back to you at 1 in the morning. They are here well after normal hours. They will travel to far-flung parts of the country and they are not compensated for that type of work. They do it because they love to do it."
The faculty are fond of him.
Dr. Jacqueline Khorassani, Professor of Economics, was on Ben's Honors Thesis committee and the director for his Economics capstone. She says Reese is one the most organized people she has ever met, and that will serve him well in law school and beyond.
"His time management skills are exceptional. This semester for example, he has managed to fulfill his course requirements while working on his honors thesis as well as being heavily (and extremely successfully) involved in Forensics competitions and economics paper competition," she says. "He has also managed to travel to several law schools in order to gather information that eventually allowed him to choose the University of Michigan as his next destination. I really don't know how he could do all this and do it so right. He is smart, hard working, and goal orientated."
While competing for forensics, completing his research projects and participating in Model UN and Moot Court, Ben also played in the orchestra, interned with a local judge and took summer courses at Cambridge University in England on Legal History and Comparative Law.
Dr. Mike Tager, Ben's adviser, is impressed with how well-rounded his advisee is.
"He is probably the most prepared student we've sent to law school," says Tager, Associate Professor of Political Science. "I got to know Ben a bit outside the classroom by attending multi-day Model U.N. conferences in Dayton and Cleveland with him and other students. I discovered he has an excellent sense of humor, and an ability to recognize with sarcasm the inconsistencies of some of the things said and positions taken by other delegates at the conferences." 
During his four years as a Pioneer, Ben became the poster child of what can be accomplished at Marietta College. However, he still credits Marietta with shaping him.
"Having grown up in Marietta, I never really thought Marietta College would be able to give me all of the opportunities I received," Ben says. "I got to study at Cambridge, participate in Model UN, Moot Court and so many other things during my four years. It's the breadth of opportunities that you get here. You want to go somewhere or do something? Marietta has a connection and can get you there. That's not something you would expect from such a small institution, but Marietta gave me all of those opportunities."