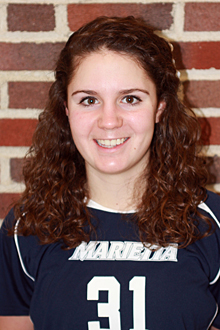 Off the Mall
Hometown:  Proctorville, Ohio
Superpower of Choice:  The ability to fly
Currently Collecting:  NBA basketball cards
Favorite Ice Cream Flavor:  Birthday cake with sprinkles
Sarah Mayo '15
Sarah Mayo '15 is one of only four women working under the intense Arkansas heat at the Fayetteville Shale natural gas site for Southwestern Energy.  Don't be deceived by her petite frame; this Petroleum Engineering major sports her hard hat and steel toed boots as well as any of the boys. 
After finishing her first year at Marietta on the Dean's List, Mayo was selected for a field internship with Southwestern Energy.  The internship operates in five two-week rotations during which interns work in the categories of measurement, simultaneous operations, intervention, maintenance, and roustabout.
"Most companies like for students to have field internships because it allows us to see what exactly goes on in the process of getting the natural gas and oil out of the ground before turning it over to sales.  With this internship, I've been able to gain some hands-on field experience that should be able to carry over into my future job," Mayo says.
While she admits that her feminine size hinders her ability to do the manual labor as easily as her male coworkers, her determination to change the gender composition of the petroleum engineering field fuels her constant hard work both during the school year and over the summer.  Her average workday with Southwestern Energy lasts between ten and twelve hours, after which she spends her free time doing homework for her summer classes.
When she's not pursuing her petroleum engineering degree, Mayo is the dedicated third baseman of the women's softball team.  Her desire to play college softball led Mayo to Marietta, and after meeting with Coach Arbuckle, she knew this would be the school for her.
"She recruited me for softball and was one of the first to introduce me to the petroleum program.  When I came for my campus visit, she made sure to show me everything about the school, the academic programs, and the softball program.  With all this said, I've enjoyed the faculty and their willingness to help a student out, and I'm finally starting to realize how much hard work truly does pay off."
Going into her sophomore year, Mayo is also the secretary of the Society of Petroleum Engineering, the vice president of the Society of Women in Engineering, and a Student-Athlete Advisory Council Representative.