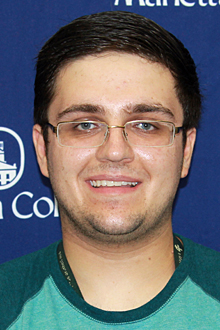 Spencer Riley '14 has loved theatre for as long as he can remember. Growing up, Riley gained an appreciation for theatre, especially musicals, by watching his family's large collection of old movies. 
Riley, a native of Sheffield Village, Ohio, is a Marietta College senior pursuing his Bachelor of Fine Arts in Theatre. 
"My parents tell me that I would watch movies as a kid and I would always act along with them and sing along with them," Riley says.
At the age of 8, Riley's parents enrolled him in a summer youth theatre program that was putting on a production of Peter Pan. It was then Riley earned his first acting role as a baby crocodile, and he has been performing ever since.
When it came time for Riley to choose a college, he was drawn to Marietta for its theatre program and its familiar environment.
"I just liked the atmosphere. It reminded me of a lot of the old movies I liked to watch when I was little," Riley says. "The lawns were perfectly manicured, there were people around. It kind of reminded me of a scene from Meet Me in St. Louis."
To date, Riley has participated in 18 of the campus's theatre productions. His experiences with the Marietta College Theatre Department have led him to develop his craft as an actor, as well as to hone his skills in stage management and sound production. 
"Primarily, I wanted to do acting, but (the theatre department) wants us to have a well-rounded experience so that when we go out and find theatre jobs, we can have all the experience that might come up," Riley says.
Some of Riley's favorite acting roles at Marietta have been those that have challenged him most. He cites his roles as Peter in Edward Alby's At Home at the Zoo and as Shahryar in Mary Zimmerman's The Arabian Nights as the most rewarding.
"At Home at the Zoo and The Arabian Nights were my biggest acting challenges, so acting-wise, those were pretty great meaty, juicy roles to kind of sink my teeth into," Riley says.  
With graduation approaching, Riley is not yet sure what his next step will be. He is, however, grateful for the learning opportunities he has gained during the past four years here.
"I've had some really great experiences," Riley says.  "I've been really lucky to have had a lot of people in my life who saw what I can do and trusted me with some great roles."
LINDSEY KUDAROSKI