Students travel to Thailand to study aspects of area's aquaculture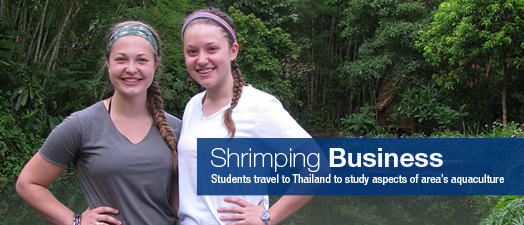 After completing an incredible learning experience in portions of Thailand and Cambodia with a larger group of Marietta College students, four students are staying in Thailand to conduct serious research projects on aspects of the area's shrimping industry.
Eric Miranda '15 (Olmsted Falls, Ohio), Patrick Tegge '14 (Glenshaw, Pa.), Maggie Watt, Natalie Mayan '15 (Camden, Del.), Abby Romesberg, Casey Peel, Alex Martin '14 (Aurora, Colo.) Alina Kielbasa '15 (Austintown, Ohio), MaLisa Spring '14 (Zanesville, Ohio) and Taylor Landrie '13 (Fredericksburg, Va.) arrived in Bangkok just before midnight on May 15. The first part of the trip, Leadership from an Eastern Perspective (LEAD 350), was coordinated through the McDonough Leadership.
For 19 days, the students, Dr. David Brown of Biology Department, Dr. Rob McManus of the Leadership Program, and Arielle Jennings, Director of Civic Engagement, visited historic sites, such as the Grand Palace in Bangkok, completed service learning projects, such as teaching young children in a village near Chiang Mai, learned about the different cultures, including taking a cooking class while in Cambodia.
A blog was kept during this portion of the trip.
As most of the students departed from Bangkok on June 4 to return to the U.S., four students remained in Thailand to begin research projects involving specific aspects of the shrimping industry in the southern coastal area of the country. Landrie, Spring, Miranda and Kielbasa will conduct research through June 25. This project and the travel expenses were funded by the ASIANetwork Freeman Fellowship grant, which Marietta College received this year.
"The students will each be working on their own projects, but the projects are related," Brown says. "All of the projects deal with issues surrounding shrimp farming and the loss of mangroves, which are cut down to install the shrimp ponds. Some students are looking at the issue from a biological perspective, others from an economic perspective. One student is looking at how religion influences how people look at nature and conservation issues, and the fourth student is looking at social justice issues associated with the labor."
Landrie project, entitled "The Impact of Culture and Religion on Community Responses to Sustainable Shrimp Farming in Southern Thailand," looks at how residential life in coastal villages in Thailand is shaped by culture and religion, and how those influences affect Thai communities' opinions on sustainable shrimp farming.
"The study will analyze the responses of southern Thai communities to mangrove sustainability measures including shrimp farming certification and how these response are influence by such factors as religion, culture and shared history by asking participating community to fill out a survey and answer a short number of open-ended interview questions in two different southern coastal communities," Landrie describes in her grant application.
She will study a Muslim village in Phang Nga province and a Buddhist village in Chanthaburi province.
Spring's project, "Baseline Assessment of Mangrove Restoration Projects in Abandoned Shrimp Farms," can serve as the start of many future research works. She describes mangroves as being important tidal ecosystems that also serve as protective barriers during tidal changes and damaging weather.
Agribusiness, such as shrimp farming, has destroyed a significant amount of mangroves. Though there have been efforts to reestablish these ecosystems, many of these attempts have failed.
"The attempts that do not entirely fail are often stunted or slow growing," she describes in her grant proposal. "With the proper background research before planting, the success rate is much higher. However, baseline assessments of the replanted areas still need to be made in order to see how things change over a period of time. This experiment takes basic ecological assessments of the replanted mangroves along with photographic analysis that could be used in the future for further studies that can track how the mangroves are doing in the future."
Miranda's work, "Moving Forward: Encouraging Sustainable Shrimp Farming in Thailand," examines how sustainable shrimp farming is perceived and how it can be better implemented in Thai farming operations.
During his research in the country, he planned to observe conventional and sustainable shrimp farms, noting the different farming practices of both types. He will also interview the farmers to learn about the "health of the industry" and if it is profitable.
"Additionally, the farmers will be interviewed with the help of an interpreter to determine their perspectives on shrimp farming and whether sustainability certification is perceived as being economical," he describes in his proposal. "… After the interviews are conducted, gathered testimony can then be compared with all relevant economic numbers gathered through prior research. If it should turn out that sustainable farming certification is not perceived to be advantageous to the bottom line, research could be conducted to see what sorts of economic policies could be advanced by the government to alter this perception."
Kielbasa focused her research on "The Effects of Thailand Shrimp Farming Practices on Worker Welfare."
"In order to gain a better understanding of the societal impacts of Thailand's shrimp farming, I want to delve into some of the social justice issues surrounding this industry," Kielbasa writes in her portion of the grant proposal. "The Thai shrimp farming industry has gown rapidly and in doing so has significant impacts on the surrounding environments. However, one effect that is typically overlooked is the impact on the employees of this industry in southern Thailand. Social justice issues, including topics such as worker welfare, the role of immigrant workers and gender roles could have significant impacts on their pay rates, and the overall environment of their workplace. Both of these effects have had minimal and isolated research done on them, so the only way to gain more information about gender roles and worker welfare would be to discover it myself at farms in Thailand."
Brown says the four students who are conducting research into Thailand's shrimping industry will translate their findings into a report, which will be submitted to the ASIANetwork and the Freeman Foundation. He hopes their work will be published elsewhere as well.
"The students will also be eligible to present a poster at the next annual meeting of the ASIANetwork in Chicago next April," Brown says. "The ASIANetwork Freeman Fellowship grant provides funding for me and one student to attend this meeting next year, but I am hoping to take at least two students and hope that Investigative Studies will be able to provide support for the second student."
Brown believes all four students plan to attend graduate school after earning degrees from Marietta, so the Thailand research project will help prepare them for the next step in their education.
"The other valuable part of this experience is that they will have a chance to live and work with people in Thailand for three weeks as they work on their projects," Brown says. "Visiting and having close interactions with an eastern culture will be a new experience for almost all of them (maybe everyone). That experience and their research will help them understand how Thais view nature and conservation — a different perspective than we usually experience in the United States."