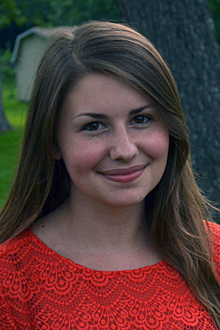 Taylor Hanigosky '16
Soft-spoken Taylor Hanigosky '16 arrived at Marietta College last fall and quickly became an anomaly.
While most students quickly fell into line with many popular clubs or activities, Taylor became a standout in two of the College's less renowned organizations: The Marcolian and Shake America.
"I never expected that I would have taken on a leadership position on The Marcolian my first semester of college, but I am so glad that I did," she says of her role as an editor. "I was given a lot of free reign to navigate the tasks that were at hand, which was both frustrating and exciting at the same time — frustrating because it was really challenging, but exciting because I enjoyed the challenge."
Not long after she began working for the paper, Hanigosky began penning stories that would become major features, as well as those that saw her going out into the community to conduct interviews. Among her favorite articles was one centered on a group of local men she met who frequent Skyline Café on Putnam Street.
"It was my first go at leaving campus and talking to people in the community, and I have maintained relationships that began with that story," she says. "Looking back at the finished piece, there are many things I would add and change, but the experience of gathering the details and information for that story really reinforced why I want to continue in journalism."
She learned quickly about the importance of gathering information. When she had the chance to ask Pulitzer Prize-winning journalist Eugene Robinson a question during Founders' Day in February, she stood out to students and staff with an inquiry that was well-researched and cleanly articulated.
Yet her journalism interests are just the beginnings of a curious mind that has great devotion to issues of social justice. Her passion for such causes was so strong that she became co-President of Shake America, Marietta's new student-led social justice organization, in just her second semester.
"I believe that our humanity is forever bound together," she says. "My own justice relies on the realization of life, liberty, and happiness for every human being. I don't think my passion comes from any one place, but rather is a culmination of my surroundings and the events I have witnessed throughout my life."
It sounds like the right grouping of causes for a young journalist to be involved with. With great concerns about lack of access to proper education, as well as a desire to see the world, Hanigosky hopes to become an international correspondent.
For now, however, she is keeping focused on helping Shake America grow in its second year with new causes and programming.
"I am very excited for Shake America in the coming school year. We have plans to address cooperation, communication, and understanding across diverse religions, and the human side of political conflicts in North Korea and Syria, and of course much more," she says.
In a short amount of time, Hanigosky found a home for her interests, her causes and herself at Marietta College. She was also initiated into the Alpha Xi Delta Fraternity and named an Outstanding First Year McDonough Scholar. She said what she enjoys most about Marietta is the "friendliness and sense of community."
And if it weren't obvious from her tremendous involvement on campus, she stands out once again with a smile that never fails.
"I am just very grateful for the opportunities I have been given, and to live in a place and time that allows me to do whatever I set my mind to," she says. "It's easy to get stressed or frustrated about things or get caught up in redundant routines, but I always to keep things in perspective."