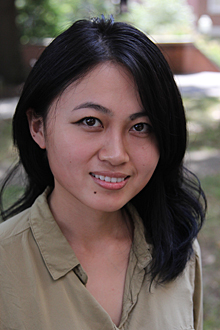 Yue Liu '15 traveled halfway across the globe to attend Marietta College and pursue her dream of becoming a businesswoman in America.
Liu, a transfer student, is majoring in Marketing at Marietta. Born and raised in the Shandong province of China on on the country's east coast, she moved to Japan after high school to start college. Liu studied at Kyoto College of Economics for two years, and then attended Kwansei Gakuin University for a little less than a year before deciding to study in the states.
"That was enough time for me in Japan to learn the language and culture," Liu says. "It was time to switch."
Liu began her two-year journey at Marietta College last January. She discovered the school through her friend, also an international student.
Liu's favorite aspects of Marietta are its small class sizes and "beautiful campus." She also loves the town's rural setting because "students can concentrate on studying."
"When I was in Japan I lived in a big city, so I could go shopping or go to karaoke whenever I wanted," she says. "I spent too much time on other things, not studying."
While on campus, Liu has made a great effort to learn more about the new world she is immersed in. While most of her friends live with other international students, she has chosen to live with an American student. She is also a part of the campus organization Pioneers of Culture and Service.
Liu pointed out a few distinct cultural differences of the United States, including the friendliness of the people, who she describes as "easy to talk to" and "tolerant." She has also found that compared to Japanese, English has been a much harder language for her to learn.
"I think it takes me five times longer to read my textbooks than an American student," she says. "Speaking and listening is easier for me."
College in America is also much more strenuous than in Japan, she says. She explained that in Japan, entrance tests are difficult, but once a person has been accepted into college, he or she "does not have to have a certain GPA." Since coming to the states, Liu has had to greatly alter her academic lifestyle.
"I didn't have to work hard in Japan, but here, I do a lot more studying," she says.
Liu does make time to relax on the weekends, however. Her favorite weekend activity is cooking meals with her friends.
Regardless of the cultural challenges she faces, Liu presses on because she believes Marietta College is providing her with a good education. She will be finishing out her studies in December 2014. After she graduates, she hopes to land a marketing job in America and "live in a big city near the ocean."