Athletic Training Outcomes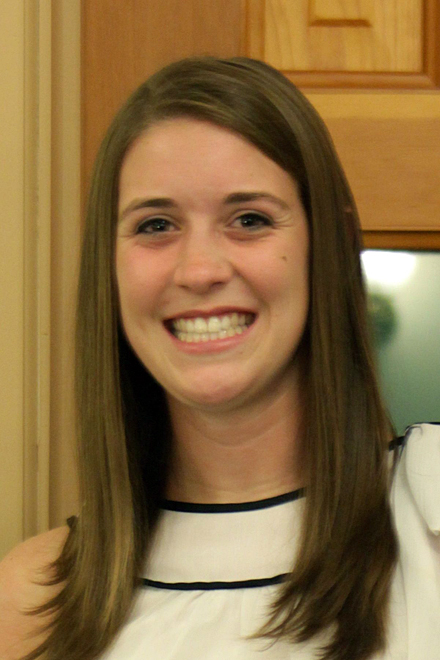 Marci Estock '13
Major: Athletic Training
Minor: Leadership Studies
Additional Education: Graduate Student in Marietta College's Physician Assistant Program (Class of 2015)
Current Job: I will be graduating the PA Program this July and I have a couple job prospects right now but I haven't committed to any yet.
Hometown: Louisville, Ohio
Clubs/Organizations: Marietta College Physician Assistant Student Society (MCPASS), Marietta College Athletic Training Student Organization (president), Alpha Xi Delta sorority, Alpha Lamba Delta honorary, Order of Omega (president), American Red Cross volunteer, McDonough EXCEL leader
Athletics: Intramural volleyball and basketball
Favorite Professor: This is (surprisingly) by far the hardest question. The more I think about it the more I realize that each of the professors that I have had bring something new to the table. Some I could listen to for hours and others it was a struggle to make it through class but either way I learned a lot. If I have to pick one professor I would have to say, Dr. (John) Grosel from the PA program, Kemery Sigmund from Athletic Training and Dr. (Gama) Perruci from Leadership.
Education Abroad: Costa Rica & Belize (three-week summer course)
When did you know Marietta College was the right school for you?
I initially visited Marietta College just for the Physician Assistant Program. On my visit not only did I find the program to be everything I wanted and more, but I also saw all of the academic opportunities Marietta had to offer, the close relationships between the students, and the beautiful campus. I was informed that the McDonough Leadership Program was one of the top five leadership programs in the country and the athletic training program was one of the first in Ohio. After that, I was hooked.
Favorite Marietta moment?
When I was a homecoming queen candidate (Fall 2012) for the Marietta College Athletic Training Student Organization. I was walking down the tunnel in the football stadium with my parents before we walked onto the field to be announced and, like a typical day on campus, I passed many of my friends, athletes, professors, administrators, and classmates to whom I greeted along the way. I didn't think much of it until my Dad jokingly asked me if I knew everyone on campus to which I replied no. It wasn't until later that I realized how much that moment spoke to the experience I had at Marietta. I had the opportunity to meet and interact with a variety of people from athletes to leadership students to sorority sisters to faculty to administrators. Even having homecoming candidates representing a wide variety of organizations on campus speaks to the wonderful experience I had at Marietta College.
Describe what life was like during your time at Marietta College.
It all went by so fast it is almost hard to recall. I stayed pretty busy between Sports Med classes, extra prerequisite classes for PA school, Greek Life, McDonough, and athletics. I tried to take advantage of all of the opportunities Marietta had to offer and really step outside of my comfort zone to learn as much as I could while I was here. I had the chance to travel internationally to Costa Rica and Belize and, although I was not a fan of the bugs and snakes lurking around, I got to climb the Mayan ruins, zip line, and snorkel with sharks and stingrays on the second largest barrier reef in the world. I had a chance to meet some of my best friends who, although scattered across the country, I still stay in contact with now.
What impact did Marietta College have on your career?
I came to Marietta with a fairly solid plan of going to PA school but there were many things here that helped mold my path to my final destination. I had a great relationship with my professors and learned many lessons from them, both inside and outside the classroom. I also worked with many of the Marietta athletes in one way or another. Working with my Athletic Training professors and athletes during rotations with softball, football and men's basketball solidified my determination to work in the health care profession and found my passion for helping people. Although standing outside in the pouring rain at football practice or traveling five hours on a bus to a basketball game wasn't exactly my idea of "college fun," I wouldn't have traded the experience for the world. The PA curriculum can be grueling at times but reflecting on how rewarding it was to help an athlete go back to the sport they love after sustaining an injury pushes me to keep hitting the books. All of the activities I was involved with on campus and the liberal arts education have helped to make me much more well-rounded which will translate to my career in medicine.
What does it mean to be a Pioneer?
Most students (I'm assuming) who attend small, liberal arts colleges say they chose to go there because of the "small school feel" and "they don't want to be a number," but never has that applied more than at Marietta College. Not only does every student that steps foot on this campus have an identity that is more than an ID number, but they also are a part of the Marietta College family. The MC family is that of a typical American family; experiencing our ups and downs but always doing so together. This campus has seen some hard times this year with the loss of a current student, a graduate athlete, and a student receiving a difficult medical diagnosis of cancer but the students bonded together to help, support, and love one another. The students, staff, and faculty have also come together to celebrate several national championships and NCAA tournament runs, welcoming Dr. and Mrs. Bruno to campus, and building a new dorm on campus. To be a Pioneer means to stick together through the good times and the bad, and to always look forward to a bright future of reaching your goals and leaving an impact on others in a community to do the same.
---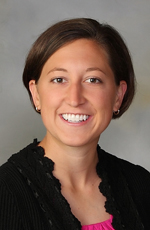 Fizzy (Elizabeth) Ramsey '07
Major: Athletic Training
Minor: Biology
Certificate: Leadership Studies
Additional Education: Graduate Student in Marietta College's Physician Assistant Program (Class of 2011)
Hometown: Danville, Ky
Clubs/Organizations: Marietta College Athletic Training Student Organization, Student Athlete Advisory Committee, McDonough Leadership Program, Omicron Delta Kappa Leadership Honorary Society, Alpha Lambda Delta Honorary Society, Pi Alpha national Physician Assistant Honor Society
Current Organizations: Danville Rotary Club, Boyle County High School assistant Track and Field Coach, Member/Secretary of the Danville-Boyle County Humane Society Board of Directors
Athletics: Track and Field
Favorite Professor: Sam Crowther (undergraduate), Dr. John Grosel (graduate)
When did you know Marietta College was the right school for you?
I made my first visit on Oct. 23, 2002, in the peak of autumn. I immediately fell in love with Marietta. Beyond the aesthetics, the athletics staff, Admission Office and faculty were extremely welcoming. It felt like a perfect fit from the very beginning.
Favorite Marietta moment?
Choosing a favorite moment is challenging. I could go on about playing home run derby in Parsons Field, slip and sliding in Hermann Bowl, sledding down Mills Hill, getting sent home for a week during the 2004 flood or celebrating the track season with teammates throughout the years.
Describe what life was like during your time at Marietta College.
Life was a roller coaster of hectic days and stressful nights yielding rewarding and exhilarating milestones. I juggled 18-sometimes-19 credit hours a semester, track and field, sports medicine responsibilities, tutoring and an internship/job at Marietta Memorial Hospital. Little did I know it was making for a very smooth transition into graduate school and a productive career. Although college was a busy four years, they were some of the best years of my life with lots of fun and entertainment sprinkled in the mix.
What impact did Marietta College have on your career?
Marietta's strong liberal arts education instilled flexibility, creativity, community mindedness, critical thinking and strong communication skills that are integral in the practice of medicine. I can juggle various tasks in a high-stress environment while still enjoying every facet of my job. A varied curriculum throughout undergrad sparked multiple interests allowing me to relate and interact with patients and colleagues of all walks.
What does it mean to be a Pioneer?
I must say I am proud to be a Marietta College Pioneer. I was provided a myriad of opportunities throughout my education that I would not have had the privilege to do so in a larger institution. As touched on above, being liberally educated by this institution fostered a thirst for continued knowledge, drive to solve complex problems, educate and empower those coming along in my field of study and to give back to the community I call home, wherever it may be at the time.
---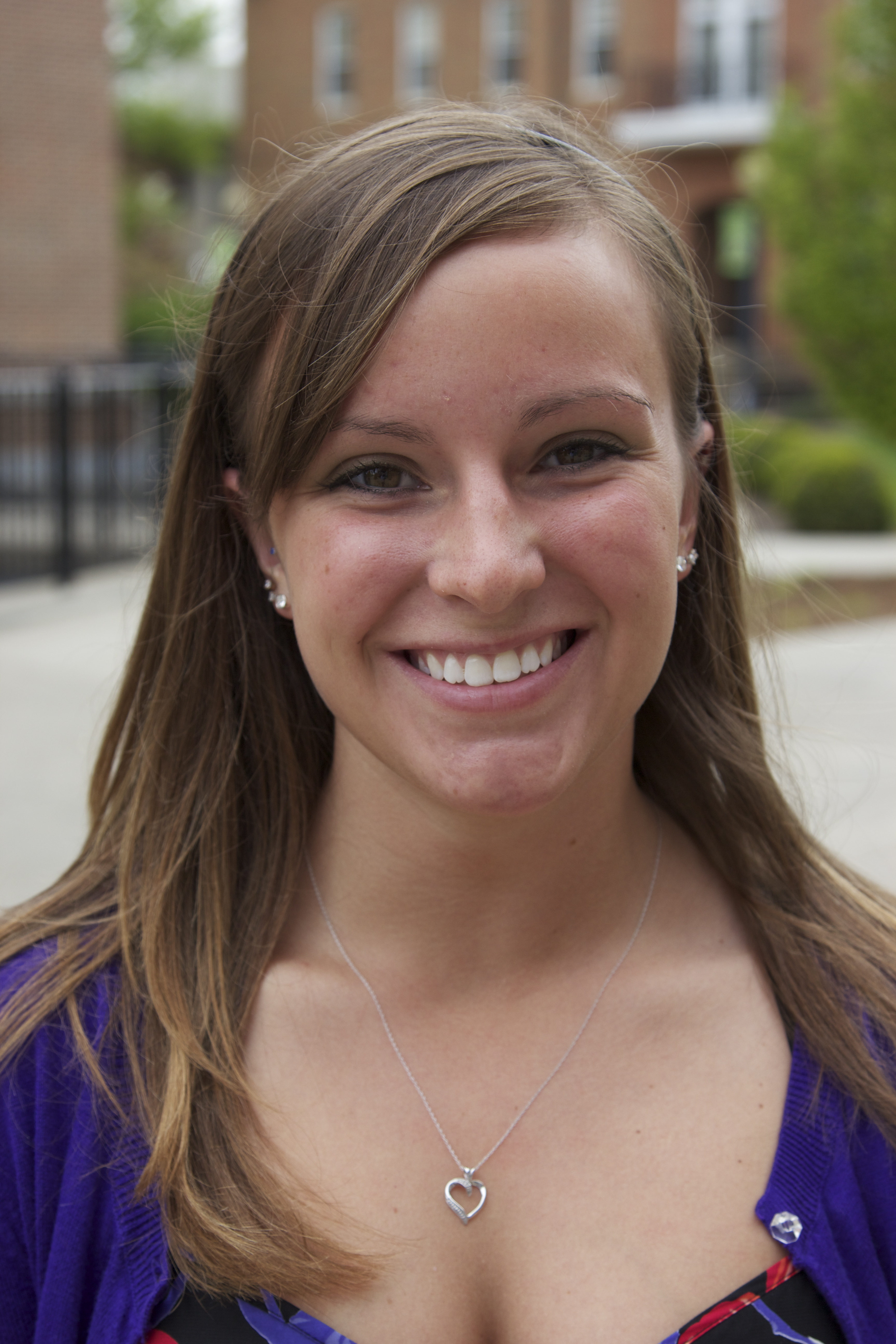 Chyrsten Regelski '13
Major: Athletic Training
Minor: Health Communication
Additional Education: Old Dominion University, Master's in Athletic Training
Current Job: Assistant Athletic Trainer at Otterbein University
Hometown: Arcanum, Ohio
Clubs/Organizations: Sigma Kappa, Marietta College Athletic Training Student Organization (MCATSO)
Education Abroad: I spent two weeks in Sydney, Australia, with eight other Athletic Training majors. I wanted to go on this trip because I knew that it would set me apart both in my search for graduate schools and jobs. Not many students in sports medicine get the opportunity to study abroad because our field of study doesn't really translate to other countries like political science or leadership.
When did you know Marietta College was the right school for you?
The first time I visited. It just felt like home.
Favorite Marietta moment?
MCATSO Caretakers winning the Alpha Sig PioPuff football tournament/fundraiser
What impact did Marietta College have on your career?
It gave me great connections that will last a lifetime. I'm in graduate school now and I still am able to reach out to my fellow classmates and professors when doing research for assignments, for encouragement, or just to catch up.
What does it mean to be a Pioneer?
It's a lot like being a part of a big family. It's coming together to support teams in competition, each other in times of need, and being proud of where you've come from and what you accomplished during your time at Marietta. It's being able to say that you're a part of The Long Blue Line and cherishing the memories you made on the journey to become a part of it while making new ones with the people you met along the way.
---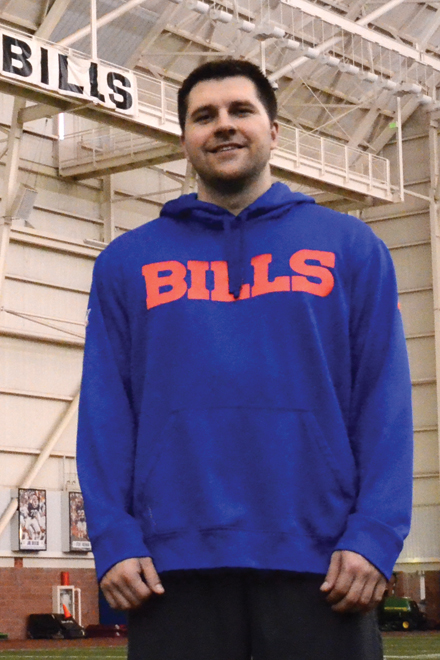 Jason Vrable '07
Major: Athletic Training
Additional Education: Master's of Sports Management (Robert Morris University)
Hometown: South Park, Pa.
Current Job: Offensive Quality Control coach, Buffalo Bills
Athletics: Football
Favorite Professor: Sam Crowther
When did you know Marietta College was the right school for you?
I went to Marietta for an overnight football-recruiting weekend. After the weekend was over on my drive home back to Pittsburgh, I told my father "I could see myself going to school there for the next four years." When asked why, I replied, "The people."
Favorite Marietta moment?
In front of a sellout crowd during my senior year, we were down by 17 points in the first quarter and came back to force overtime. We beat them in overtime and the fans charged the field and celebrated with the team.
Describe what life was like during your time at Marietta College.
It was an amazing four years, the best of my life.
What impact did Marietta College have on your career?
Currently I am a football coach in the NFL, so for some they may not understand how studying Athletic Training at Marietta would have impacted my career. Marietta impacted me both on and off the field because of the people. After my first semester at Marietta I realized the support I would have from everyone around me. The faculty took pride in seeing me succeed. Marietta College helped me be the person I am today.
What does it mean to be a Pioneer?
A Winner!
---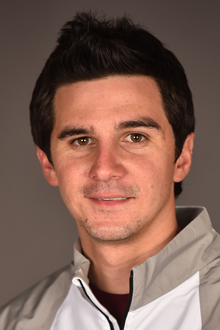 Chad Walker '10
Major: Athletic Training
Certificate: Leadership
Additional Education: Arizona State University Masters in Higher and Post Secondary Education
Current Job: Assistant Athletic Trainer - Arizona State University Men's Ice Hockey.
Hometown: Chandler, Ariz.
Clubs/Organizations: MCATSO, McDonough Leadership Program
Favorite Professor: Sam Crowther
When did you know Marietta College was the right school for you?
I knew Marietta was the right school for me the minute I walked onto the brick mall in the center of campus and saw how vibrant and energetic the atmosphere was. When I toured the athletic training room and met Sam (Crowther) and the rest of the faculty I could sense the close-knit environment of the department and knew I would fit in right away. Other schools I looked at didn't have the same "feel" and were not centered around the development of the "entire student."
Favorite Marietta moment?
My favorite Marietta moment was when I was working as an Athletic Training student with football and we beat Otterbein who was ranked No. 7 in the country. We had been having a difficult year and to see the guys' faces after winning that game is something I will never forget.
Describe what life was like during your time at Marietta College.
Being in the Athletic Training program I spent a lot of hours in the training room and with my assigned athletic team, which varied by semester. We would have our classes in the mornings and report to our sports in the afternoon. This would make for long days and weekend commitments. It was always interesting trying to squeeze in study hours and made for some long nights but we learned how to become more responsible and self-reliant. Through those long hours the athletic training majors spent a lot of time together at practices, competitions and road trips. We had a really close group and functioned very much like a family. We developed lifelong friendships and they are still some of my best friends to this day. I lived in the dorms all four years and some of my best memories are from hanging out with my suitemates and getting to know everyone in the college community. I had a great experience living on campus and got to know so many unique individuals from diverse backgrounds. Whether it was eating in the dining hall everyday, checking my mail, or getting a work out in at Dyson Baudo, I got to the know the staff and College community really well and it made my experience all the more enjoyable.
What impact did Marietta College have on your career?
Marietta College allowed me to not only gain the knowledge and tools to become a certified athletic trainer, but also the lifelong skills of being a person of character and compassion. Because I was able to have such a great relationship with faculty and staff with a totally open-door atmosphere, I was always able to go to them for advice about anything and everything. College is a time of change for students and the atmosphere of Marietta allowed me to grow into the person I am today. The other great aspect about Marietta is that you are considered a Pio for life and the resources of the community will always be available whenever, wherever. I still routinely talk to my professors and check in with them for advice when needed, and they continue to help me in my career today.
What does it mean to be a Pioneer?
To me, being a Pio is all about pride and selflessness. We have such a diverse tight-knit community of alumni and students who share a pride in their school that is unrivaled. I still routinely check on how the athletic teams are doing and talk to my friends and staff who are in the loop. Whenever I can help out, I want to be able to continue to give back and that's a common theme of Marietta grads.
---