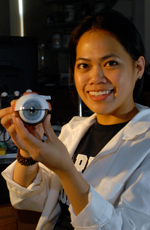 Ami Casis '08
Major: Biology
Minors: Chemistry, Spanish
Additional Education: Doctorate in Optometry, University of Houston
Current Job: Therapeutic Optometrist, Glaucoma specialist at 20/20 EyeCare in Nacogdoches, Texas
Hometown: Nacogdoches, Texas
Clubs/Organizations: Young Professionals Club, Omicron Delta Kappa, American International Association, Residence Life, Investigative Studies Program
Favorite Professor: Dr. Steven Spilatro
When did you know Marietta College was the right school for you?
When I visited during summer orientation
Favorite Marietta moment?
Doo Dah Day(s)
Describe what life was like during your time at Marietta College.
Some of the best days of my life. I met so many people of different backgrounds and interests who were all united by our mutual desire to learn, expand, and grow in our personal, intellectual and professional lives.
What impact did Marietta College have on your career?
MC helped me be more versatile, flexible and efficient in using my resources and skills to take on anything. My academic education more than prepared me for further schooling.
What does it mean to be a Pioneer?
To be a Pioneer is to be fearless in seeking solutions to problems, to be a leader in bettering the future for all, and to be confident in one's personal strengths, skills, and knowledge to take on any task.
---
Monica Dimick '12
Major: Biology
Additional Education: Masters of Science in Physician Assistant Studies, Jefferson College of Health Sciences, Roanoke, Va.
Current Job: Physician Assistant, Primary Care
Hometown: Soldotna, Alaska
Clubs/Organizations: Investigative Studies Program, The Vine Campus Ministry, the Biology Club, Phi Beta Kappa
Favorite Professor: Dr. Dave McShaffrey
When did you know Marietta College was the right school for you?
My boyfriend (now husband!) and I both knew we wanted to go to a small private liberal arts school. After my first visit to campus, I immediately fell in love with the scholarly atmosphere and beautiful campus and knew it was a place I wanted to be a part of.
Favorite Marietta moment?
Graduation. During graduation, I had an overwhelming feeling of nostalgia and heartbreak to be leaving, but also a very peaceful feeling of completion. It was time for the next chapter of life to begin, and I had only feelings of love and thankfulness as I reflected on one of the greatest adventures of my life.
Describe what life was like during your time at Marietta College.
It was busy, but good busy. I always took a full course load, worked two jobs, and had a slew of extracurricular involvement, which often led to needing an extra hour in the day, and sometimes I was unsure of how everything would possibly get done, but it always did and there was never a dull moment.
What impact did Marietta College have on your career?
During my time at Marietta, I wanted to be successful not only for myself but for my professors too. They were excellent educators not only in the sense that they were experts in their field, but they genuinely wanted me to learn and excel, and that was expressed in various ways inside and outside the classroom. It's a difficult phenomenon to describe, but I can only hope that one day my colleagues and patients want to do well because my attitude facilitates an environment that enables and encourages people to excel and be better just as my professors did that for me. How I compose myself professionally would not have been the same without my beloved professors at Marietta College.
What does it mean to be a Pioneer?
Being a Pioneer means you are taking on the challenge of a liberal arts education, being a master and expert of many fields, with the expectation of success academically and professionally but with the help of some of the most brilliant classmates and professors.
---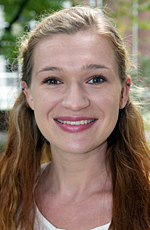 Keira M. Hambrick '09
Major: Biology and English (concentration in Creative Writing/Poetry)
Additional Education: Master of Arts in Literature & Environment Studies, University of Nevada, Reno, 2011
Current Job: Academic Support Coordinator, Marietta College
Hometown: Princeton, W.Va.
Clubs/Organizations: Biology Club, Sigma Tau Delta, Honors Program, Beta Beta Beta, MENSA
Favorite Professor: I find it very difficult to choose just one. Some of the best classes I ever had were with (in no particular order) Dr. Kevin Pate in Chemistry, Dr. Janie Rees-Miller in Linguistics, Dr. Dave McShaffrey in Biology, and the entire English department.
When did you know Marietta College was the right school for you?
I can't think of a single, specific moment that I knew, but within my first three semesters I began to realize that my presence on campus mattered to people. I never felt like "just a number." Faculty and staff knew me by name, and other students asked for my help as a writing tutor and biology tutor. I also worked for the Biology department as a laboratory preparation assistant/teaching assistant and I worked for the Art and Theater departments. I know that, had I gone to a larger school, I would not have had the same opportunities to make connections all across campus. I've always been interested in a wide variety of topics, and that curiosity was encouraged at MC.
Favorite Marietta moment?
After I presented my English capstone project to the whole department, Dr. (Carolyn) Hares-Stryker beamed at me and said I would make a great teacher. I realized at that moment that my entire education had kind of blossomed all at once. Almost all of my courses, from Communications to Zoology, included at least one presentation assignment, and I had learned a wide variety of research, analysis, and problem-solving skills. Being a double major with one foot in the sciences and the other in the humanities prepared me to really understand the needs of my audience. I remember feeling like I had "cracked the code" because that presentation felt as easy, fun, and natural to me as the Biology capstone presentation I did a week later. That moment was my favorite because it showed me how much I had learned and how much I was capable of achieving.
Describe what life was like during your time at Marietta College.
My four years at Marietta were some of the busiest years of my life. Balancing all of my academic, personal, and work-related commitments was challenging, to say the least, but I figured it out and had a lot of fun along the way. I really pushed myself when I was a student here, and I'm glad I did because I don't think I'll ever have another opportunity to do and learn so many different things at one time.
What impact did Marietta College have on your career?
Since graduating from Marietta, I've worked as a grant writer for non-profits, a web content developer, a professional editor, a college composition teacher, an auctioneer, the lead of a historical research team, a copywriter for a major vitamin company, and now I manage all of the ARC tutoring services at Marietta College. When I was a student, people always asked me "what on earth do you think you're going to do with degrees in biology and writing?" My answer? Anything. Everything. My education from Marietta did not prepare me to do just one job. The skills I acquired are flexible and transferable to anything I want to do. In today's job market, it's highly unlikely that any employee will have the same career for 50 years. For some people with purely vocational educations, that's a really scary prospect. But I'm not afraid because I have a breadth and depth of knowledge and experience that will always be relevant.
What does it mean to be a Pioneer?
I think being a Pioneer means choosing to leave your comfort zone and expose yourself to challenges. Being a Pioneer means pursuing your interests - even if they don't seem like they fit one particular "major" - and learning everything you can. As a Pioneer, I learned how to find the rewards in challenging situations, I learned to be excited by the unknown, and I developed a lifelong passion for learning new things.
---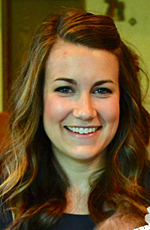 Jessica (Craig) McDaniel '08
Major: Biology
Minor: French
Additional Education: Ph.D. in Cancer Biology from the University of South Florida (2012)
Hometown: Uniontown, Ohio
Clubs/Organizations: Resident Assistant, Student Alumni Association
Current Occupation: Medical Science Liaison, Celgene Corporation
Favorite Professor: Tough one! Favorite professor in my major was Dr. Steve Spilatro; outside of major, Dr. Mabry O'Donnell
Athletics: Volleyball
When did you know Marietta College was the right school for you?
The moment I left my overnight recruiting visit. I was paired up with Ellen Doolittle who showed me around campus and I felt immediately welcome by her, the volleyball team, and everyone else I met. I was drawn to the school because of the new (at the time) science center and the intimate campus atmosphere. Ellen and I, and several others I met on that recruiting trip, remain best friends to this day!
Favorite Marietta moment?
Besides meeting my husband freshman year outside of Elsie Newton 301, I would say Doo Dah Day 2008. It was a beautiful spring day filled with mud volleyball, activities on Parsons lawn, relaxing, and enjoying some of the last times I would spend on campus. It was just perfect.
Describe what life was like during your time at Marietta College.
I became an RA my junior year, worked in the communication lab, played volleyball, and took a minimum of 16 credits each semester. It was really hectic, but I thrived on being involved and learned to manage my time well. I lived in Parsons and loved having so many suite mates that became my family.
What impact did Marietta College have on your career?
My experiences at MC shaped everything that I have done professionally since. My immunology and cell biology classes jump-started my interest in immunology and biomedical research. My work in the biology department led to my research internship before my senior year, and then my ultimate acceptance into graduate school where I continued to research cancer and the immune system. I believe my close relationship with my professors, as well as my ability to be involved in a variety of activities like volleyball and Res Life has help shaped me into a well-rounded goal oriented person.
What does it mean to be a Pioneer?
Being a Pioneer means appreciating and embracing tradition, and working hard to achieve your goals. It means not shying away from blazing the trail for others to come after you. Once a Marietta College Pioneer, always a Pioneer!
---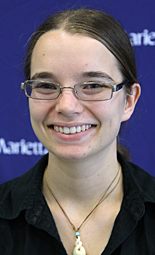 MaLisa Spring '14
Major: Biology
Minors: Spanish
Additional Education: I am pursuing a Masters of Science in Entomology at OSU with Dr. Mary Gardiner in her Cleveland Vacant Lots project. We are looking at predator ecology of the invertebrates, but we are also going to tie in pollinator research.
Current Employer: The Ohio State University
Hometown: Zanesville, Ohio
Clubs/Organizations: Biology Club, Students for Environmental Awareness, Scholars Community
Favorite Professor: All of the Marietta College faculty are amazing and I cannot pick just one. A list of some of my favorites (in no particular order): Dr. Katy Lustofin, Dr. Dave Brown, Dr. Dave McShaffrey, Dr. Almuth Tschunko, Dr. Bev Hogue, Dr. Mark Schaefer, Dr. Javier Jimenez, Dr. Andrew Wehrman, Dr. David Torbett
Education Abroad:
Costa Rica - Biology Field Sudies - May 2011
Costa Rica - Universidad Veritas - Fall semester 2011
Thailand and Cambodia - Leadership course and the Freeman Foundation Shrimp Industry research - 6 weeks in May-June 2013
When did you know Marietta College was the right school for you?
I knew I wanted to go to a small school. I visited several different schools trying to find the right fit for me. I probably visited Marietta five times for different events and to sit in on a class. I'm not a medical person, but I enjoyed having the chance to sit in on Dr. Hancock's Anatomy class. I was taking Anatomy in high school at the time, so it was interesting to see the comparison.
Really, it was a combination of factors that lead me to Marietta. I wanted to be in a place I felt I belonged. I liked all of the opportunities available, from the Leadership program to the chance to do an Honors research project. I also wanted to make sure that I could study abroad at least once while I was in school, so I met with Christy Burke multiple times before I even came to Marietta as a registered student. And in the course of four years I was able to take advantage of many of these opportunities.
Favorite Marietta moment?
I'm terrible at choosing favorites. How can I choose just one thing that happened in those four eventful years? = It could be anything from 3 a.m. hikes with the Biology Department faculty at the field station, conversations with your friends on the Mall, to the moment of excitement in the lab when something goes perfectly right.
Describe what life was like during your time at Marietta College.
Busy, but never a dull moment. I was one of the crazy people who spent a lot of time in the science building. I was in my lab a lot of hours working on my pollinator research project, but also working as a lab assistant. I had another job as a Library Supervisor. I only had to put out two fires, so we could say it was a decent job.
Social life was a bit different. I lived with the Scholars Community (previously known as Honors House). They are an interesting group of people who you can expect to find in the hallway at 2 in the morning discussing an interdisciplinary range of topics.
What impact did Marietta College have on your career?
I would not be where I am today without Marietta. The Biology Department was instrumental in helping me get where I am today. The Biology Field Studies class my freshman year let me do a research project on insect diversity in the tropics. It was my first attempt at research in a field setting. From there I focused even more on insects. I spent a semester abroad the fall semester of my Sophomore year in Costa Rica, which reinforced my focus in the sciences, but also the importance of a liberal arts education. The following summer I got an insect diversity internship in Minnesota where I completed my own project on ladybeetle diversity.
The summer after my junior year I took advantage of multiple opportunities. Dr. Brown led a trip to Thailand and Cambodia for a three-week leadership course. However, a smaller group of us applied for a grant through the Freeman Foundation to research the shrimp farm industry in Thailand. We were funded, so the following three weeks we spent looking at different aspects of the shrimping industry. I specifically looked at mangrove restoration in abandoned shrimp farms. It was an amazing experience, but it was not the only project I worked on that summer.
The Investigative Studies Program provides a stipend for students to complete research over the summer. I applied and was awarded the grant to research native bee diversity in Washington County, Ohio. This project also continued on in the fall semester to become my senior capstone. Thanks to various grants from the College I was able to go to multiple conferences to present my research, including the International Conference for Pollinator Biology, Health, and Policy. Going to these conferences gave me the confidence to reach out to head scientists in my field to see if I could access their collections. I was fortunate to get my pollinator collection verified by the national expert of bee identifications, Sam Droege. I drove to Maryland during Senior week and he confirmed multiple species, including eight state records for Ohio! With these confirmations I can now publish my data in a scientific journal.
It is rare for an undergraduate to get to do research. It is even rarer for an undergraduate to do their own research that they designed. Thanks to the many opportunities at Marietta I was able complete multiple projects that let me get a little experience under my belt before I applied to graduate school.
These are just some of the things that set Marietta apart from the competition. Marietta has led me across the world and close to home with both research and academics.
What does it mean to be a Pioneer?
We are Pioneers. We set our minds to a goal, and we do it. We pioneer in academics from innovative classes and teaching methods to research opportunities. I pioneered my own research project looking at the bee diversity of Washington County. A study of similar scale had not be completed in Marietta before. I collected over 100 different species of bees and we found eight state records not yet identified in Ohio!
I think one of the things that stuck with me was a rendition of a Walt Whitman poem that served as an advertisement for Levi's my freshman year. Except our weapons are not pistols, but ideas, words, and eventually actions and Western is International.
My question is: Who are the new Pioneers? Can they stand up to the challenge?
---