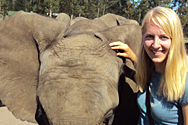 Anna Gill '12
Majors: Middle Childhood Education
Certificate: Teacher Leadership
Hometown: Canal Winchester, Ohio
Clubs/Organizations: In college, I was involved in InterVarsity Christian Fellowship, the Honors House/Scholars Community, Circle K International, and Students for Environmental Awareness. In Grenada, I was involved in the Grand Roy Pan Angels Steel Orchestra (steel drum/pan group).
Current Occupation: I will be completing my three year commitment to the Mission Intern program in a few weeks. My international placement was in Grenada with the Grenada Community Development Agency (Sept. 2012-January 2014). I'm almost done with my domestic placement site with Branches in Miami, FL (March 2014-July 2015).
In the fall, I will be moving to Washington, DC to begin a dual-degree graduate program at American University and Wesley Theological Seminary. I will be studying international development at AU and theology at Wesley. I'm applying for nonprofit jobs and jobs at AU.
Favorite Professor: Too hard to choose one, but among them were Dr. (Cathy) Mowrer, Dr. (Dottie) Erb, Dr. (Connie) Golden, Dr. (Tanya) Judd Pucella, Dr. (Robert) McManus and Dr. Mabry O'Donnell.
Education abroad: Stellenbosch University in Stellenbosch, Western Cape, South Africa from January-June 2011.
When did you know Marietta College was the right school for you?
I was at an open house or some event in McDonough. I'd spent the day on campus and could see myself living and thriving here. I turned to my mom and told her I'd finally made my decision: I was going to Marietta College.
Favorite Marietta moment?
Homecoming in 2010 with the Honors House. We themed everything around Harry Potter and had great entries for Munchies on the Mall, Croon, and more. It was the camaraderie and the quirky humor of my Honors House friends that made it so special.
Describe what life was like during your time at Marietta College.
Busy. I always had a full course load and never got enough sleep. But I had a great living community with the Honors House. Living there, I always had friends around; they were worth losing sleep over. They motivated me to be the best student I could be while also making sure there was never a dull moment. Those people are still some of my best friends. I was also very involved with extracurricular activities.
What impact did Marietta College have on your career?
A lot of what motivated me to become a mission intern came from InterVarsity Christian Fellowship, where I learned how much God cares for people affected by social injustices, and gained valuable leadership experience serving as chapter president. I also cannot understate the importance of learning about world issues, geography, civic engagement, communication skills, leadership styles, teaching strategies and critical thinking from my classes.
What does it mean to be a Pioneer?
Being a Pioneer means being part of a wonderful campus community that equips and inspires you to go out and make a difference in the global community.
---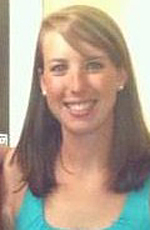 Megan McGrath '10
Majors: Middle Childhood Education
Certificate: Leadership and Teachers as Leaders
Additional Education: Master's Degree in Reading Specialist, California University of Pennsylvania
Hometown: Pittsburgh, Pa.
Clubs/Organizations: Chi Omega Sorority, Kappa Delta Pi, Omicron Delta Kappa, Panhellenic Executive Board, and Order of Omega
Current Occupation: Sixth-grade teacher for the North Allegheny School District
Favorite Professor: Dr. Connie Golden
When did you know Marietta College was the right school for you?
I knew Marietta was the right school for me on my first visit to the college. I had been traveling around western Pennsylvania and Ohio checking out small colleges and their education programs. I had never heard of Marietta before I received their brochure in the mail. As soon as I stepped on campus I knew I wanted to be there for the next four years. The campus was exactly like the pictures looked - which I could say from other college brochures was something Marietta could be proud of. All the students around campus seemed happy to be there and my tour guide couldn't say enough good things about the school. Everything and everyone were so welcoming.
Favorite Marietta moment?
My favorite Marietta moment(s) would have to be sorority bid day every year. Each year brought with it a different meaning for me. During my freshman year I was running out of Andrews Hall to join my new sisters and be welcomed into such a fantastic organization. My sophomore and junior years brought new sisters to me that each would become such great friends. And my senior year represented the end of a successful recruitment process that I had run on campus as VP of Panhellenic Council.
Describe what life was like during your time at Marietta College.
My time at Marietta was nonstop activity. Balancing my education with the activities I wanted to participate in took most of my time, but I still had plenty of free time to hang out with my friends. Even though I did not participate in athletics it was still a part of my time at Marietta. We would attend football, basketball, and baseball games to support our Pioneers and enjoy the events that they held.
What impact did Marietta College have on your career?
Being an alumna of Marietta College was definitely beneficial to my career. Through Marietta's Career Center I was given experience in interviewing and received assistance on my resumes. I was hired immediately out of college by Wellston City Schools in Jackson County, Ohio. They loved the experiences I had from college and considered me an experienced teacher even though it was my first year as a professional. This past year I began job searching in the Pittsburgh area. I have to say that even three years after graduating from college, I was using things I learned from Marietta in my interviews and interview lessons. I was hired at North Allegheny School District in Pittsburgh this year, which is one of the top school districts in the state.
What does it mean to be a Pioneer?
To me, being a Pioneer means being a leader who uses his/her experiences to pursue new adventures.
---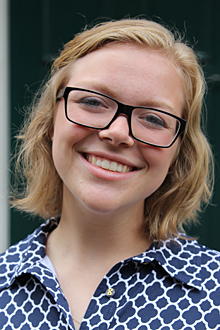 Jenna Skoglund '15
Major: Middle Childhood Education
Additional Education: Plan to attend graduate school in the future
Current Job: Sixth grade Language Arts teacher at Hilliard Station Sixth Grade School in Hilliard, OH
Hometown: Westerville, Ohio
Clubs/Organizations: Leadership (TLC), EXCEL, New York Times Leadership Fellows, College Dems, MCTEA, Concert Band, Wind Ensemble, Jazz Band (1st Trombone; Band Council member for four years - President senior year)
Favorite Professor: Dr. Matt Young, Dr. Carole Hancock, Dr. Tanya Judd Pucella, Dr. Connie Golden, Dr. Janet Bland … I can't pick, honestly.
Education Abroad: Shanghai/Beijing, China for two weeks (US/China Student Senate), Summer 2014
When did you know Marietta College was the right school for you?
I knew from the moment I stepped onto campus that I was going to love Marietta College. My dad grew up in Marietta, and my grandma still lives there, but I never thought I would like the city and campus as much as I did once I went on an actual tour. The strong Education Department and Leadership program really helped seal the deal for me after being accepted.
Favorite Marietta moment?
There are so many moments to choose from - I would say that I loved participating in the poster presentations on All Scholars Day in 2014 (my junior year), going to dinner at Dr. (Gama) Perruci's house (several times), or running the EXCEL Workshop as Coordinator my senior year.
Describe what life was like during your time at Marietta College.
I loved Marietta College. We had our ups and downs, but Marietta never stopped feeling like home. I loved living on campus and everything being a shorter-than-seven-minute-walk away. I loved going to classes with professors who really cared about me and whether or not I achieved success. Life was good.
What impact did Marietta College have on your career?
I would say that Marietta College left me feeling very confident in my abilities going into my first year of teaching. Not only did the education department help me understand the type of teacher that I am and who I want to become, the career center helped me with my interviewing skills, which really impressed my building principal during my interview! My field experiences during my time at Marietta helped me learn more about myself as a teacher, and talking through all my ups and downs of student teaching with my advisor, Dr. Tanya Judd-Pucella, helped me learn and grow from my first day to my last day on Marietta College's campus. I don't think Hilliard City Schools would have hired me right out of college if they didn't see that confidence and growth that Marietta College helped me achieve.
What does it mean to be a Pioneer?
Pioneers are loyal, tough, and smart. We stick together through thick and thin, good times and tragedies. The best example I can think of is how the entire campus rallied when Sami Hood was diagnosed with cancer, or when Caitlin Yager passed away. The whole campus cared. The whole campus came together, and we made it through with our Pioneer spirit. Pioneers are tough; we know what it's going to take to make the grade, and we're willing to do what we can to get there. We know the college has gone through hard times, but Pioneers stick it out and make it through. And we're good at it. We've got the smarts that we need to succeed. Marietta College was the place that helped us find out how smart we really are. The professors guided us and molded us and showed us what our best looks like. Now that we've seen our best, Pioneers never want less than it.
---