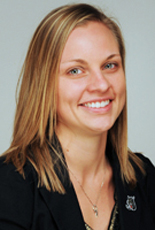 Christina Moritz '08
Major: Graphic Design
Minor: Public Relations & Advertising
Current Job: Graphic Designer, Life Fitness in Chicago
Hometown: Canton, Ohio
Clubs/Organizations: Kappa Pi, Swim Club, Alpha Delta Sigma, AAF, Marcolian, Omicron Delta Kappa, Mariettana, Alpha Lamba Delta Athletics: Crew
Favorite Professor: Todd Roeth
When did you know Marietta College was the right school for you?
After visiting the campus
Favorite Marietta moment?
Doo-Dah-Days or all-nighters in Hermann
Describe what life was like during your time at Marietta College.
Busy. Hectic. Dedicated. Some things in life never change, except I now I have to do my own dishes - don't knock Gilman.
What impact did Marietta College have on your career?
The initiative I took while attending Marietta College and the opportunities that came with had an immediate impact on my career as I landed my "dream job" as a graphic designer for the Chicago Wolves Hockey Team upon graduating. Early on, I approached the art department with my long-term goals and they nurtured these dreams while in the classroom and also by pointing me in the direction of additional opportunities. Working with the Office of College Relations for two years and my nine-month internship with Ullman Design gave me immediate real world/client experience before graduating. This experience paired with a targeted portfolio that offered a range of real world applications helped me to land my initial dream of working and designing in sports. Since then, I have been able to lean on the real experience and practical education to continue pushing my career as I later worked as a project manager for a web and digital start up agency, and now as a designer for Life Fitness, the global leader in the fitness industry.
---
Corryn Muench '12
Major: Graphic Design, Advertising & Public Relations
Certificate: Leadership
Current Job: Digital & Design Marketing Manager at Campus Living Villages
Hometown: Cold Spring, Ky.
Clubs/Organizations: Kappa Pi, Omicron Delta Kappa, American Institute of Graphic Arts
Athletics: Track & Field and Soccer
Favorite Professor: Abby Spung
When did you know Marietta College was the right school for you?
On the car ride home from my first on-campus visit at Marietta. The campus is very hard not to fall in love with.
Favorite Marietta moment?
As close-knit as Marietta College is, my favorite moments were from Senior Week where I really got to know and bond with my classmates, many of whom I never hung out with during my four years. In the absence of classes, athletics, homework and other extracurriculars, I was able to talk to classmates, hang out in Parsons Field, and celebrate with my cohort.
Describe what life was like during your time at Marietta College.
There are so many adjectives to describe my time at Marietta College. I came to Marietta not knowing anyone. It's funny to look back now, but the people who are my best friends from college, all lived on the third floor of Marietta Hall my freshman year. My time at Marietta helped me to grow into the person I wanted to be. I was surrounded by great people, coaches and amazing faculty and staff who pushed me to go beyond expectations and kept me accountable for my own success. Outside of class, I had so much fun going to basketball games and hanging out with friends in the dorms. I wish I could still live in the same building as all of my friends! The campus was beautiful all year round. The library, which opened my sophomore year, played a huge part in my academic success. I loved being an athlete at Marietta and the opportunities it gave me to meet people and play sports.
What impact did Marietta College have on your career?
Marietta College gave me a foundation on which to build. An education can be quickly outdated in these fast moving times, but Marietta College gave me the personal foundation to know that learning never ceases. In beginning my career, the Marietta Career Services Center helped me to write my resume and conduct mock interviews so I wasn't going into the workforce cold turkey. I also had faculty helping me to find internships as well as alumni helping me to find jobs. I felt that the connections I have made and just being a part of The Long Blue Line has given me an advantage in my career.
What does it mean to be a Pioneer?
While you become one of many Marietta Pioneers, you are one of few worldwide. Being a Pioneer is truly something unique. You share experiences and memories that only other Pios can understand and appreciate. You are part of a family and this is very apparent when you return for Homecoming or just a visit to campus. I feel that being a Pioneer gives me an advantage in the work place and is a point of pride and confidence for me.
---