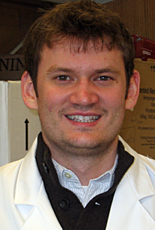 Jeffrey Wojton '08
Major: Health Science
Minor: Leadership Studies
Additional Education: Ph.D. Neuroscience (The Ohio State University)
Current Job: Postdoctoral Researcher, Duke University
Hometown: North Canton, Ohio
Clubs/Organizations: Delta Tau Delta Fraternity
Favorite Professor: Dr. Dan Huck and Dr. Pete Hogan
When did you know Marietta College was the right school for you?
When I came to visit. I did not realize it when looking for colleges, but the small town atmosphere and the residential nature of MC caught me by surprise.
Favorite Marietta moment?
Every year at homecoming. I have been back to homecoming every year since I graduated, mostly to catch up and interact with old friends as well as present and former Delta Tau Delta (DTD) fraternity brothers. Whether its visiting the Town House with old friends or playing in the alumni vs. active DTD football game, it's a weekend I look forward to every year.
Describe what life was like during your time at Marietta College.
A perfect balance. The small residential feel made going to class, participating in work groups, and interacting with faculty very easy. That being said, I definitely had time to enjoy extracurricular through Greek life and intramural sports.
What impact did Marietta College have on your career?
I came to MC with the sole purpose of becoming a physical therapist. I took all the classes and volunteered in an outpatient orthopedic physical therapy clinic run by a MC graduate and family friend. Sometime in to my senior year I realized that it was not the correct path for me. It took a long time to figure out, but I realized that working as a clinician required daily patient interaction that I did not enjoy as much was necessary … but my love for science remained unchanged. After taking human physiology with Dr. Pete Hogan, I realized how difficult and challenging the field of neuroscience was. Even though my first seven semesters were devoted to the career of physical therapy, MC provided me with enough basic and translatable experiences/coursework that I was able to get accepted into the Neuroscience Ph.D. program at The Ohio State University.
What does it mean to be a Pioneer?
For me I have much more pride in being a Pioneer than a Buckeye. That is not meant to belittle my graduate experience at Ohio State, but even though I spent six years at Ohio State compared to four years at MC, I feel that my true affiliation is toward is still to Marietta College and the city. Of course I am biased in this because I met some of my closest friends and future wife there … but that's part of the package.
---