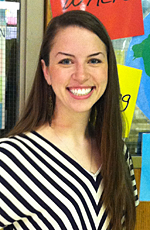 Rachel Baughman '12
Majors: History, Secondary Education
Certificate: Teacher Leadership
Hometown: Kent, Ohio
Clubs/Organizations: Sigma Kappa, McDonough Center for Leadership and Business, Women's Choir, Kappa Delta Pi, Omicron Delta Kappa, EXCEL Workshop
Current Occupation: Eighth-grade language arts teacher, Rosebud Indian Reservation in South Dakota
Favorite Professor: Dr. Tanya Judd Pucella
Education Abroad: 10-day service experience in Managua, Nicaragua, and 10-day arts and leadership experience in Paris, France
When did you know Marietta College was the right school for you?
After attending the EXCEL Workshop, sponsored by the McDonough Center, my first week on campus as a freshman, I knew Marietta College was the right fit. It already felt like home. I was surrounded by people who not only wanted to make me a better student, but a better person.
Favorite Marietta moment?
There are so many. The EXCEL Workshop, both the year I participated and the years I helped facilitate, is definitely at the top of the list. I also vividly remember Midnight Breakfast right after my first semester at Marietta College. It was such an energetic, fun celebration for our hard work. It had recently snowed and my friends and I went sledding in the Hermann Bowl after filling up on pancakes and waffles. Lots of laughs were had.
Describe what life was like during your time at Marietta College.
I remember always being busy and in the best way possible. Challenging classes, extra-curricular activities, time with friends, volunteering, working off-campus consumed the hours in my day and I loved every chaotic second of it.
What impact did Marietta College have on your career?
I knew I had always wanted to be a teacher. However, Marietta College inspired me to be a teacher leader. I currently teach eighth-grade language arts on the Rosebud Indian Reservation in South Dakota. All of my students are Lakota and face immense challenge of poverty, alcoholism and drug abuse, but are inspirational sources of bravery and strength of spirit. I never would have embraced this challenge without the justice-oriented mindset I built during my time at Marietta, especially through the critical thinking and reflection promoted by the McDonough Leadership Center. Dr. (James) O'Donnell's Native American history class also inspired me to search for teaching jobs on Native American reservations, pockets of rural poverty often forgotten. Dr. Tanya Judd-Pucella opened my eyes to the powerful role a teacher leader can play in transforming a classroom and even a school.
What does it mean to be a Pioneer?
A Pioneer, in its original definition, means to be someone who was the first to explore, use, apply, etc. I think to be a Marietta College Pioneer means the same thing. It means to be a leader and change agent in a field of your choice. It means to continuously improve. It means to make a difference.
---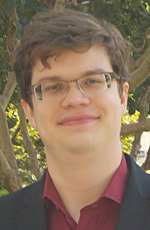 Ian Boley '13
Majors: History, Asian Studies
Minors: Philosophy, Honors Program
Additional Education: Master of Arts in Chinese Philosophy, Fudan University
Hometown: Lowell, Ohio
Clubs/Organizations: Phi Alpha Theta, Concert Choir, Men's Ensemble, Chamber Singers, Oratorio Chorus
Current Occupation: Test Prep Teacher and Study Abroad Assistant Resident Director
Favorite Professor: It's very hard to choose, because Marietta has so many excellent teachers who truly care about your learning. That said, I would choose my advisor, Dr. Ihor Pidhainy. After seven classes in Chinese history with him, I can safely say he's the most responsible for me being where I am today. It was a great four years.
Education Abroad: Fudan University in Shanghai, China, Fall Semester 2012
When did you know Marietta College was the right school for you?
That's kind of tough to answer. I lived 15 minutes away, so I initially applied because it seemed natural. I guess I decided it was the right school for me when it all finally clicked during the Pioneer Scholars competition, and I realized that I could obtain a rigorous and internationally focused education close to home.
Favorite Marietta moment?
It would have to be a realization that occurred over the course of a semester, actually. When I was planning my study abroad experience, I was very worried about how my education would stack up against that of the students at the school I was going to - Fudan University is consistently ranked third in China. When I arrived, however, I was overjoyed to discover that my presentation skills, my critical thinking abilities, and my Chinese history background were among the elite even at a world-class university. It was at that point that I realized Marietta had prepared me far better for the future than I ever could have hoped.
Describe what life was like during your time at Marietta College.
Intellectually stimulating and fun, despite getting less sleep per night than a Marine recruit. While I was at Marietta, I was classmates with some of the most genuinely intelligent people I have ever encountered - people like Ben Reese, Phil Sizemore, Caleb Ellis, and many others. The conversations were excellent and the classes were even better, because if two students start exchanging ideas in a Marietta class, the professor won't sit there like Jove on his throne - Marietta profs will wade into a discussion and offer their opinion as an equal. If you're smart, you'll listen to their thoughts, but if you still disagree, you can feel free to do so without fear of retribution. Just be prepared to defend your argument!
What impact did Marietta College have on your career?
As mentioned above, Marietta gave me the tools I needed to begin to think, but it was Marietta's wonderful study abroad structure that probably had the biggest impact on my career. Financial aid transferred proportionally to study abroad costs, so thanks to my scholarships, I was able to choose an incredible third-party provider and go to Fudan University in Shanghai. While there, I discovered my current English-taught MA program, and I decided to return to China. Now I've passed the Foreign Service Officer Test and am working my way towards joining the State Department - and it's all thanks to Marietta.
What does it mean to be a Pioneer?
It means being part of an elite community of intellectual leaders. I can honestly say that even if you don't ever take a single leadership studies class at Marietta, you'll graduate fully prepared to lead in any field you choose, from music to math, from English to economics, from PR to petroleum engineering.
---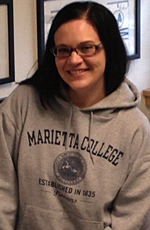 Miranda Miller '04
Major: English and History
Certificate: Leadership
Additional Education: Master's degree, English, The Ohio State University (2006)
Current Job: English instructor, Gillette College
Hometown: Gillette, Wyo.
Clubs/Organizations: Chi Omega, Student Senate, Forensics team, McSAC
Honor Societies: Phi Beta Kappa, Omicron Delta Kappa, Sigma Tau Delta, Alpha Lambda Delta, Order of Omega, Gamma Sigma Alpha, Pi Kappa Delta, Phi Alpha Theta
Favorite Professor: It's impossible to pick just one! Dr. Carolyn Hares-Stryker, Dr. Mabry O'Donnell, Dr. James O'Donnell and Dr. Kathryn McDaniel
When did you know Marietta College was the right school for you?
When I visited campus, I sat in on Dr. (Mabry) O'Donnell's honors speech class, and Dr. O and the students made it a point to include me in the class, as though I had been with them the entire semester. I knew Marietta was a special place from that moment, and that if I matriculated there, I would make friends for life. I was definitely right.
Favorite Marietta moment?
There are so many! But a moment I cherish in particular occurred every fall - singing Chi O songs on The (Christy) Mall during Bid Day with sorority sisters.
Describe what life was like during your time at Marietta College.
Life at Marietta was so engaging. Both inside and outside the classroom, I experienced incredibly intellectual exchanges with some of the most brilliant minds I have ever met. When walking to class, it was impossible not to be stopped by several friends.
What impact did Marietta College have on your career?
My education at Marietta College taught me how to think on my feet, how to articulate an argument, and how to present myself successfully in public. I work as an English professor now, and I use those skills daily.
What does it mean to be a Pioneer?
Being a Pioneer means devoting yourself to learning and to your friends. A Marietta education and Marietta friends will stay with you forever.
---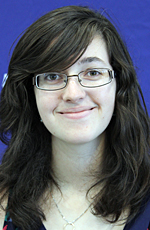 Hannah Ratliff '14
Major: English, History
Current Job: Junior Content Editor at Boostability, Inc.
Hometown: Tucson, Ariz.
Clubs/Organizations: Women's Choir, Students for Environmental Awareness (SEA), Sigma Tau Delta, Phi Alpha Theta, Alpha Lambda Delta, Pulse Literary Magazine, Marietta College Writing Center, Special Collections Intern
Favorite Professor: A two-way tie between Dr. Carolyn Hares-Stryker and Dr. Katy McDaniel
Education Abroad: Six-week study abroad internship in New Zealand.
When did you know Marietta College was the right school for you?
The first time I visited Marietta College with my mother - she was pointing out things she remembered from her time at MC and I just felt so at home.
Favorite Marietta moment?
Handing the final draft of my history capstone paper.
Describe what life was like during your time at Marietta College.
Life was always something new and exciting with friends and professors.
What impact did Marietta College have on your career?
Marietta definitely prepared me for the real world, and Hilles (Hughes) and Caitlin (Jones) in the Career Center helped me discover the career options for my majors, network, and hone my interview skills.
What does it mean to be a Pioneer?
It means being a part of a huge, caring, fun community.
---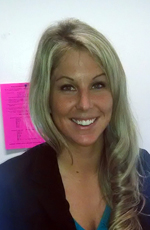 Lauren Thompson '07
Major: History
Minor: Political Science
Additional Education: Master of Arts in History, West Virginia University (2010); Ph.D. in History, Florida State University (2015)
Current Job: Instructor, Florida State University's History Department
Hometown: Bethel Park, Pa.
Clubs/Organizations: Student Senate President, Student Senate representative, Phi Alpha Theta Honor Society, Omicron Delta Kappa Honor Society, Pi Sigma Alpha Honor Society, Orientation Leader, Student Alumni Association, College Democrats, Pre-Law Society, Pioneer Pals, Senior Challenge Committee
Favorite Professor: Too Many! Dr. Jim O'Donnell, Dr. Matthew Young, Dr. Katy McDaniel and Dr. Mike Tager
When did you know Marietta College was the right school for you?
I actually attended a very large University before coming to Marietta College. At this University, I had huge classes and my professors were not very approachable. I actually emailed the Admission Office to inquire about transferring and that I wanted to major in History. A few days later I received an email from Dr. Jim O'Donnell telling me he would be my advisor and I could join his class in the Spring. It was then and there; I knew MC is where I belonged.
Favorite Marietta moment?
There are TOO MANY! A few of my favorites were having the honor to give the Matriculation Speech to the incoming class of 2010. I also enjoyed the Summer of 2006 as an Orientation Leader in both introducing the freshman class to MC and forming relationships with my fellow orientation leaders. Graduation Weekend 2007 - Cedar Point with friends, the "bar crawl" (of course), the groundbreaking ceremony for the new library where I made a speech about Dawes, and painting the rock at 7 a.m. before Baccalaureate because Dr. (Lon) Vickers told me to make it "blue" for graduation!
Describe what life was like during your time at Marietta College.
THE BEST! I really miss throwing on sweat pants, heading to class, and then meeting everyone at Gilman for lunch. Cheering on friends at their games, working out at "the rec," and planning interesting party themes were standard priorities in our day. We could just walk next door or down the hall to see our friends to talk about class, study, and hang out.
What impact did Marietta College have on your career?
I was actually very shy in high school, but Marietta allowed me to know so many people - Greeks, athletes, fellow students outside my major, international students, etc. I really was able to blossom at MC by meeting people who had interests other than my own. This allowed me to teach a diverse range of students at the university level. Most importantly, the faculty at Marietta is simply remarkable. Not only did my professors challenge us and prepare us for our careers, but they taught us to be educated citizens. I feel that in any situation, I can communicate with professionals in other fields because the wide-range of skills I learned from them at Marietta. Most importantly, their ability to take the time to work with us on not just assignments but "real life" situations allowed me to become an educator of college students because I had the most incredible role-models.
What does it mean to be a Pioneer?
When I try to explain to my students at Florida State that, "I knew everyone at my college" they just do not understand. What I explain to them and anyone else when they ask where I went to school - I tell them something like this, "Imagine your group of friends, now my friends were not just the people I would 'go out' with but those I talked to every day on campus, ate with, lived amongst, learned in class alongside, studied, shared difficult times, laughed, and graduated with - and whenever any of us go back to Marietta, Ohio - we pick up right where we left off as if time had not passed."
---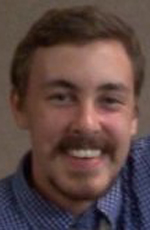 Kyle Yoho '12
Major: History
Minor: Political Science
Certificate: Leadership
Additional Education: Pursuing Masters in Public History, Wright State University, Graduating May, 2014.
Hometown: Woodsfield, Ohio
Clubs/Organizations: Public History Professionals (member), Ohio Local History Alliance (member), Army of the Ohio Reenacting Organization (Board Member)
Favorite Professor: Dr. James O'Donnell
When did you know Marietta College was the right school for you?
I realized Marietta College was the right school for me in my FYSE class taught by Dr. Michael Tager. The fact that he knew everyone's name in the class, served as our advisor for our first semester despite the class having assorted majors, and that he encouraged us to let him know if we needed anything at all showed that the faculty was actively engaged in helping the College's students and wanted us to do well.
Favorite Marietta moment?
My favorite moment at Marietta was actually graduation. The reason is not because I finally made it through those four years, but because it was at that point I realized what I had just accomplished. To finally hold that degree in my hand, which I had worked so hard for was a bittersweet moment. On the one hand, I was closing that chapter of my life, but it was odd that I wouldn't be coming back in the spring and seeing all my friends.
Describe what life was like during your time at Marietta College.
During my time at Marietta there was this sense of community. If you were walking on The Christy Mall it was more than likely that you would see someone you knew. What is so great about Marietta is it wasn't just classmates who you got to know, but it was also faculty and staff. This is something truly special and something that doesn't often happen at other schools. Another feature of Marietta that has stuck out to me is the accessibility. In terms of most of the campus buildings being located directly along the Mall, registering for classes, popping in to ask professors a question, and working with administrative services Marietta was very accessible for its students.
What impact did Marietta College have on your career?
Marietta's landscape is filled with history both in its rich heritage and its physical reminders of the past. I think this influence has led me to pursue a career within the public history field. Digging up interesting and meaningful stories to illuminate the fascinating persons, places, or events of the past, like those from within the College's history, as well as those from the city of Marietta, is what has motivated me to work within a museum setting.
What does it mean to be a Pioneer?
Perhaps most meaningful about being a Pioneer is the strong bond that lasts, even after you graduate, between the friends you made during your time there; be it through social media, texting, phone calls, or letters you still communicate with many of the people you met at Marietta. Also, I would say being a Pioneer comes with a certain sense of pride. I won't say that I loved every minute of my College years, but it's those good times that you think back to the most and make you proud to have a little of the "Navy Blue and White" coursing through your veins.
---
Phil York '10
Major: Political Science
Minor: History
Certificate: Leadership Studies
Additional Education: Master of Arts, Texas A&M
Current Job: Director of Development, Waco Habitat for Humanity
Hometown: Frederick, Md.
Clubs/Organizations: College Union Board, Charles Sumner Harrison Organization, and Student Senate
Athletics: Intramural Basketball (5 on 5 and 3 on 3)
Favorite Professor: Dr. Mike Tager, Dr. Mark Schaefer, Dr. Gama Perruci and Jeff Walker
Education Abroad: I traveled abroad with my best friend and roommate who is from Beijing, China, during winter break, 2008. We traveled to Beijing, Shanghai and several smaller cities in eastern China. I was able to see the Great Wall, eat genuine foods, learn some basic Chinese and deepen my appreciation for Chinese culture.
When did you know Marietta College was the right school for you?
I knew Marietta College was the right school for me when I first learned about the McDonough Leadership Program. I was impressed by the possibility to place political ideas, concepts, and leadership techniques to practice through the McDonough Leadership Certificate Program. No other schools on my list of candidate schools offered such a direct application of lessons and the opportunity for service learning.
Favorite Marietta moment?
I have three.
One of my Marietta moments was annual: Marietta was a place where my fellow Pioneers became my extended family. I was impressed that Marietta College offered a "Thanksgiving" themed meal before the holiday. Each year I shared Thanksgiving meal with turkey, stuffing and all the fixings but without any of the dishes.
Another Marietta moment came after the first week of freshman classes. My roommate and I debriefed each other about how our first weeks went. Then we said, almost simultaneously, "let's clean up" (keep in mind the only items that needed to be cleaned were two pizza boxes and two soda cans). As two neat people it was fun, and reassuring, to know we were on the same page. This Marietta Moment planted the seeds of a life-long friendship that remains strong to this day.
One year I invited my roommate home to spend the winter break with my family in Maryland near Washington, D.C. When we returned to Marietta, he said, "OK, next year, I will take you to my home. That way we can say that we both saw each other's capital cities." I saved up. About a year later, I was in Beijing, China, living out a promise made the year before. The marks in my passport always remind me of this great Marietta Moment.
Describe what life was like during your time at Marietta College.
Life was busy during Marietta College. I had a challenging course load in Political Science and History. Both required long hours of reading, writing and critical thinking. I also had full weekends with volunteer work at the YMCA and the Ely Chapman Center to name two. The College Union Board provided weekly tasks as I served as Music Chair and later Vice President of operations. It was a joy to work with my colleagues to bring quality special events, music, and student programming to campus year-round.
The natural beauty of Marietta provided a nice break from the fast pace of campus studies and extracurricular duties. I will never forget the beauty of the Muskingum and Ohio rivers on a fall evening.
Most importantly for me, Marietta was diverse. I participated in as many multicultural events as possible so I could increase my cultural awareness. As a lover of food, I enjoyed the many cultural events that offered unique foods and desserts from across the world.
What impact did Marietta College have on your career?
Marietta College continues to have a significant impact on my career. My involvement in the College Union Board and Student Senate allowed for critical leadership development opportunities.
When I left Marietta I felt prepared for the next step in my professional and personal development. I was able to thrive in my graduate studies at Texas A&M (one of the largest Universities in the United States) because of the one-on-one mentorship and training I had at Marietta.
As the Director of Development of Waco Habitat for Humanity, life continues to be busy but I use the same organizational and leadership skills I developed at Marietta to make a positive impact in Central Texas.
What does it mean to be a Pioneer?
Each Pioneer has their own response to this question but this is mine.
I am proud to be a Pioneer.
Pioneers are intelligent
We make decisions based on data but we also consider the cultural and global implications of our decisions. I credit my liberal arts degree for equipping me with the ability to think both within the confines of my field but to also consider the broader implications of a decision that may otherwise go unnoticed.
Further, thanks to my McDonough Leadership training, I have a solid understanding of my own leadership style and the style of others. This allows me to lead teams, projects, and proposals with higher efficiency. Self-awareness and the awareness I have of my team's strengths and opportunities for growth allow me to be a better leader for my agency and community.
Pioneers are bold
Marietta College offers the Washington Semester Program through The American University. I took advantage of this semester-long course during my final semester of College. Most attend this program earlier in their Marietta careers. I was inspired by the late Dr. Jackie DeLaat of the Political Science Department to pursue training in American's Public Law course. The American University experience deepened my passion for public service and later led me to my professional degree at Texas A&M University. If I ignored the inspiration of my professor I would have missed a great opportunity that later proved to be a career-defining experience.
Pioneers are life-long learners
My four years at Marietta College inspired me to draw inspiration from my world for constant growth. Just as I drew inspiration from brilliant professors and beautiful rivers, I continue to draw inspiration from my current surroundings here in Texas. Municipal leaders now replace professors and the Ohio Valley is replaced with the Texan landscape. But I remain a life-long learner who is sensitive to the needs of my community thanks to my professional and educational experience at Marietta College.
---