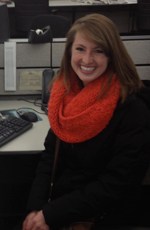 Alison Matas '11
Major: Journalism
Minors: Leadership Studies, Organizational Communications/Public Relations
Additional Education: Master of Arts, Journalism, University of Missouri
Current Job: Journalist at The (Canton) Repository
Hometown: Kent, Ohio
Clubs/Organizations: Concert Choir, Floodstage, The Marcolian, Colleges Against Cancer, EXCEL Workshop, Honors House, Honors Program, Omicron Delta Kappa, Phi Beta Kappa
Favorite Professor: Joan Price
When did you know Marietta College was the right school for you?
I knew Marietta College was the right choice for me when I realized I would be able to participate in the extracurricular activities I enjoyed during high school while still attending a small college. I'd looked at several similar schools in Ohio, and while each had some of the activities I wanted or the major I was interested in, only Marietta offered me all those opportunities. The option of being a McDonough scholar was also a huge draw for me.
Favorite Marietta moment?
It's a tie: One of my favorite moments was the final day of the first EXCEL Workshop I coordinated. I remember watching the end-of-the-workshop slideshow with my co-coordinator and best friend (Celia Brockway). We just sat there crying together - half from exhaustion and half from happiness at what our team had accomplished. Going through the EXCEL Workshop as a participant my freshman year calmed some of my nerves about college and reassured me that I'd made the right decision in enrolling at Marietta. Being able to give back to a program I loved was especially meaningful for me.
My other favorite moment was performing in the musical "Quilters" during my junior year. I wasn't a music major or a theater major, so I felt lucky to have the chance to sing and dance onstage with such a talented cast. Plus, a big group of my friends came to see the show together opening night, and it was fun to be able to share in that experience with them.
Describe what life was like during your time at Marietta College.
My first thought was "busy," but I'll say "scheduled" instead. I spent much of my time running back and forth between choir rehearsals, classes and newspaper duties. Every day was full of things I loved to do. My friends were equally involved in their own academics and activities, but we still found time to meet up for "family dinner" most nights in Gilman and have adventures on the weekend. When I was at Marietta, the Dorothy Webster complex also had some upperclass housing, so we spent a lot of time doing homework and hanging out on that front porch.
What impact did Marietta College have on your career?
Two of my professors at Marietta College - Jane Dailey and Joan Price - are the reason I stuck with journalism. They encouraged and challenged me and kept me focused. And because I attended a small college, I didn't just study newspaper reporting but also broadcast journalism, newspaper and website design, copy editing and media management. Getting a taste of all my options solidified my love for writing and editing.
What does it mean to be a Pioneer?
To me, it means being a graduate of a college that excels in academics, the fine arts and athletics. It means having lifelong relationships with both my friends and some of my professors. And it means belonging to a group of alumni who are making a difference across our country and world.
---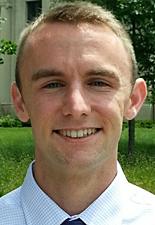 Connor Walters '13
Major: Journalism
Minors: English, Spanish
Certificate: Teacher Leadership
Additional Education: Master of Science in Journalism, Northwestern University, 2014
Current Job: Communications Coordinator for Mission at Saint Ignatius High School, Contributing Writer to Rowing Magazine
Hometown: Bay Village, Ohio
Clubs/Organizations: Student Senate, McDonough, ATO, IFC, OCE
Athletics: Rowing
Favorite Professor: You mean I have to pick just one?
When did you know Marietta College was the right school for you?
It was probably at the end of my first semester that I knew Marietta was where I belonged. When I enrolled, it was with intentions to transfer if I was unhappy, but as I became a part of the rowing team, got active in McDonough and involved myself in Greek Life and other clubs, I knew I couldn't leave. I felt surrounded by great friends and faculty and knew I was in a place where I could emerge as a student leader.
Favorite Marietta moment?
Anyone who picks just one favorite moment is leaving out dozens of others. A few of my favorites include winning a silver medal at the Dad Vail Regatta my freshman year, coordinating the EXCEL Workshop, leading the "We Are MC" chant as Student Senate President at Matriculation, weekends at the Swisher and lunches at Upper Gilman.
Describe what life was like during your time at Marietta College.
I didn't give Marietta College much credit when I enrolled, so every day, every year was a surprise for me. The people I met, the opportunities I had and the lessons I learned seemed to always exceed my expectations. Could all of these come from a Mid-Ohio Valley college that was smaller than my high school? Every day proved to me that, yes, they could. Marietta College people are the nicest people in the world - I'm convinced. So when you're surrounded by these people 24/7 it makes for a very, very nice life.
What impact did Marietta College have on your career?
In simplest terms, Marietta got me where I wanted to be originally, which was J-school at Northwestern, but in the process it showed me how much more I had to learn about myself, about others and the world around me. Without my Marietta education I doubt I would have been exposed to so many experiences that prepared me for grad school and the working world: how to lead a team, how to keep your cool in a crisis, how the little things matter, how to keep pushing yourself to be better than your previous best. These lessons carry over into everything I do professionally and personally, every day.
What does it mean to be a Pioneer?
Being a Pioneer means, very simply, being courageous. It's finding strength in yourself and in others when dealing with fear, challenges and uncertainty. Being a Pioneer means giving back the gift and paying it forward. It means getting your hands dirty, finding weaknesses and turn them into strengths. Being a Pioneer requires optimism and collaboration. It means being part of a community that is greater than yourself, but recognizing that bettering yourself also betters that community.
---